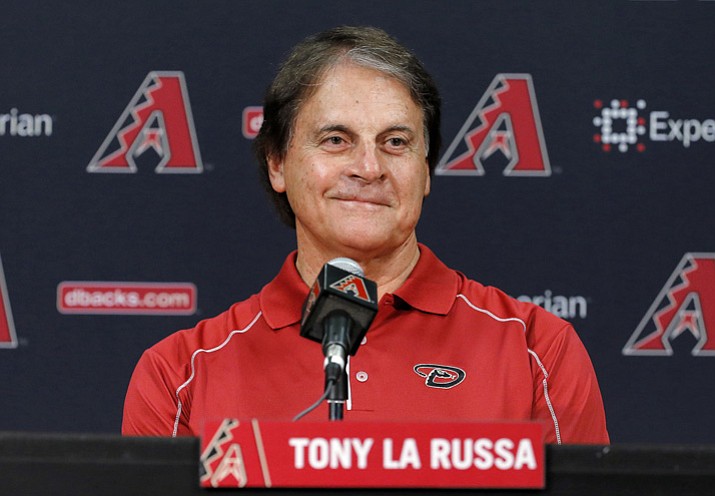 Originally Published: November 2, 2017 10:30 p.m.
BOSTON — Tony La Russa and Dave Dombrowski have been talking about working together again since meeting more than three decades ago.
That reunion will finally happen with a Boston Red Sox franchise that continues to shake things up in its pursuit of another World Series championship.
The Red Sox hired La Russa on Thursday to serve as a vice president and special assistant on its baseball operations staff. He will work for Dombrowski, the team's president of baseball operations, in player development and consultation with the major and minor league staffs.
The 73-year-old La Russa served in a similar capacity with the Arizona Diamondbacks the past four seasons.
"It was an opportunity that I was excited about," La Russa said. "Everything you do professionally, if somehow there's a personal connection, I think it adds something to the opportunity. Dave and I go way back."
La Russa was a first-time manager and Dombrowski an energetic young executive with the Chicago White Sox when their careers first crossed paths in mid-1980s.
"He had more guts than brains is what I remember," said La Russa, joking about meeting a 23-year-old Dombrowski in his second year as assistant director of the farm system for Chicago.
It's a fearless approach that La Russa believes has served Dombrowski well in his career since they left Chicago together in 1986. La Russa also thinks Boston's front office chief has an appreciation for his 50-plus years of professional baseball knowledge.
"We've talked every year for years, many times about the responsibilities we've both had and the ups and downs. When we've had questions, we'd always trust each other," La Russa said. "So it's a very familiar position."
Angels, LF Justin Upton agree to $106 million, 5-year deal
ANAHEIM, Calif. — Justin Upton and the Los Angeles Angels have decided to stick together.
The star outfielder is staying with the club that acquired him with one month left in the regular season, agreeing to a $106 million, five-year contract on Thursday that adds one season and $17.5 million in guaranteed money.
Upton was owed $88.5 million over the next four seasons as part of a $132.75 million, six-year deal he signed with the Detroit Tigers. The Angels acquired him on Aug. 31 for their playoff push, but Los Angeles finished 80-82 and missed the postseason.
Upton had the right to opt out of that deal for free agency shortly after the World Series, and he likely would have been one of the most coveted offensive players on the market.
"We felt good about how well we knew him," Angels general manager Billy Eppler said. "Having him here for that month at the end of the season gave us a deeper look, and it gave him a deeper look at us. Both parties wanted to keep this union together, and we were able to do that."
Upton had career-highs of 35 homers and 109 RBIs last season while batting .273 with a .901 OPS. He is also a Gold Glove finalist in left field, giving the Angels three exceptional defensive outfielders alongside Mike Trout and Kole Calhoun.
The Angels made a long-term commitment to Upton during the same offseason in which Hamilton's disastrous five-year contract ends, a deal that cost the Angels $103.8 million.