Originally Published: November 2, 2017 9:40 p.m.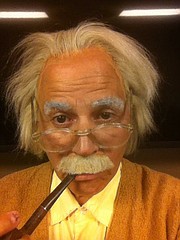 Albert Einstein, George Burns, Harry Houdini – all three of them are going to be in Prescott this weekend.
Or at least they will be when master impersonator Duffy Hudson portrays them on Stage Too.
It was fairly recently that he realized he had a knack for impressions other than acting, but he was always doing some of people like John Wayne, Carey Grant and Humphrey Bogart even as a kid, Hudson said.
"It wasn't until I had five shows under my belt that someone dubbed me the master impressionist," he said. "I'm like 'what, me?" and then I think 'you know, I guess I do have an ability for mimicry and getting mannerisms down.' That's all part of being an actor, but getting voices down, like someone else's voice, that's a little more difficult."
It takes listening a lot, Hudson said. For instance, when he was figuring out his impression of Edgar Allan Poe, there weren't any recordings of his voice to mimic so he had to do a lot of study to make educated guesses, he said. Poe always called Richmond, Virginia, his home and considered himself a southern gentleman, so he adopted a Richmond accent, Hudson said.
As for the voices he's doing in Prescott, there are recordings of Einstein and anyone over the age of 40 grew up with Burns, which gives him an added pressure of people having a more personal experience, he said. However, there is only one recording of Houdini and it was very presentational, Hudson said.
"It doesn't give you a sense of his personal voice, but we do know he was a Midwestern boy," he said, adding that Houdini came to the United States from Hungary as a young boy. "We can assume that he adopted a good portion of a Midwestern Wisconsin dialect."
The Houdini impression is a fairly new one that's really taken off and includes escaping from a straitjacket, swallowing needles and other feats the real Houdini did, Hudson said. At the same time, senior citizens love the Burns impression because it takes them back to a simpler time, he said.
The Burns impressions will be Friday, Nov. 3, at 7:30 p.m. and Sunday, Nov. 5, at 2 p.m., the Einstein impression will be Saturday, Nov. 4, at 2 p.m. and the Houdini impression will be Saturday, Nov. 4, at 7:30 p.m. Tickets are $18 and available online at www.pca-az.net/pca-presents.
At some point in the future, Hudson said he's going to do a Charlie Chaplin impression. That's probably the next one on his list, he said.
"Chaplin wrote his own biography, so that's really helpful. There's a lot of material on him," Hudson said. "People have very specific impressions of him, so that would be another thing where you would have to be really spot-on in terms of our interpretation and your impression of him."
For more information, Hudson can be reached at 818-726-2738. Stage Too is located in the alley behind the Prescott Center for the Arts, 208 N. Marina St.