Originally Published: May 28, 2017 6 a.m.
When Brent Nageli was in second grade, his teacher called his mother to say there was an issue with his drawings that may need addressing.

"I was painting green Indians," Nageli said. "My teacher freaked out and so did my mother. That's when I found out I was colorblind."
Nageli cannot define the difference between greens, reds and many pastel colors. Therefore, for the majority of his life, he resigned himself to the belief that the world of artistic creation would elude him forever.
It wasn't until about 10 years ago when he was 59 years old that his perception changed after meeting an oil painting instructor in Salt Lake City, Utah.
"I told him I've always wanted to oil paint," Nageli said.
When the instructor asked why he doesn't, he said "because I'm color blind." The instructor responded with "'That doesn't matter. I can teach you how to paint,'" Nageli said.
Despite Nageli's reservation, he decided to give it a chance.
"He invited me over to his studio and literary changed my life the very next day," Nageli said.
Since then, Nageli has been crafting his style and has found some moderate success with his vibrant paintings, some of which he is currently displaying on the courthouse plaza for the 43rd annual Phippen Western Art Show & Sale.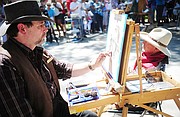 Some might consider Nageli's color blindness a handicap in regard to painting, and in some ways it is. When he desires to use a color he can't see, he'll turn to a color template his instructor helped him create or look up online what colors need mixing to create what he's looking for, which slows the creative process down.
"So it's a little bit of a disadvantage, because it takes me longer," Nageli said. "But I don't care. I paint the things that I like."
This may be a purple horse with a yellow tail, a multicolored buffalo, or an entirely accurate portrait of Native American pottery.
"I want to be different; I want to be an alternative," Nageli said.
While Nageli takes a somewhat abstract approach to his work, other artists at the Western Art Show & Sale have a much more traditional form of expression.
Bill Nebeker, for instance, is a standout in Prescott for his classic western bronze statues.
For Nebeker, the highest praise comes when a true cowboy compliments his work.
"To me, I don't care if the greatest New York City art critic came down and said 'meh' about my work," Nebeker said. "If a cowboy walked in, shook my hand and said 'that's a hell of a piece,' that would be my biggest honor."
To accomplish this, everything has to be historically accurate, down to the type and shape of the saddle a cowboy is riding on.
"It plays in a big part," Nebeker said. "In fact, that's one thing that sets western art aside from some the other styles of art. Not only do you try to create a piece that's pleasing to the eye, but you also try to keep it as authentic as possible, because you're doing something that represents a peoples' way of life — people still living today — and they take offense at it when you don't do it right."
The Phippen Museum Western Art Show & Sale continues today and Monday in downtown Prescott. It showcases the work of 98 artists.