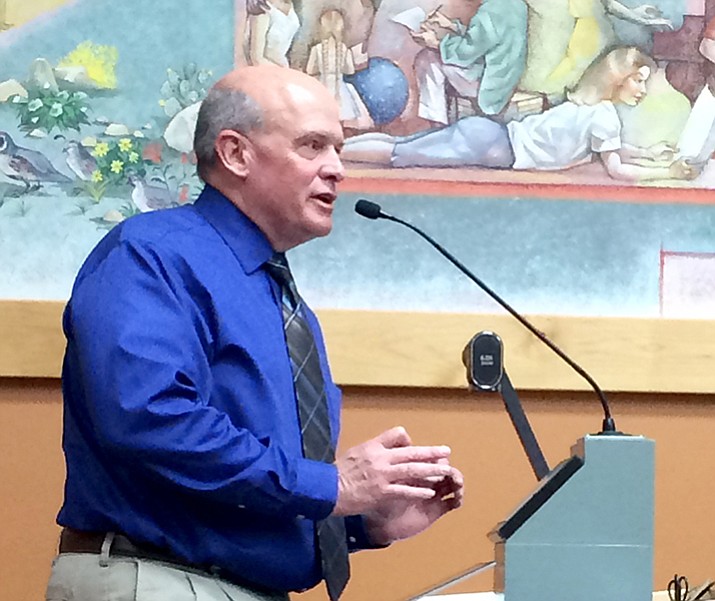 Originally Published: May 27, 2017 6 a.m.
To help the City of Prescott operate more efficiently, council members looked at a reorganization of departments and elimination of four high-level employees to save about $575,000.
The City Council met May 24 and 25 in budget talks involving its proposed $187 million budget.
No surprise, the unfunded Public Safety Personnel Retirement System liability continues to impact the budget. The city's contribution rate will increase from 72 to 85 percent for police, and from 75 to 91 percent for fire, for this coming fiscal year. The total contribution for FY2017-18 is $7.8 million, a $1.5 million increase.
On Aug. 29, if voters do not approve Proposition 443, the proposed increase of three-quarters of 1 percent (0.75) sales tax, council members are looking at Plan B to maintain a balanced budget.
This means needed positions in community policing cannot be added, depletion of vehicle replacement funding by FY19, no Sunday library hours, no additional code enforcement staff, and potential loss of staff from failing to maintain salaries at current market levels.
"We are covering the (PSPRS) increase in our operating budgets. The problem is the future service levels will be diminished," said Mark Woodfill, Budget and Finance director.
The elimination of four employees – deputy city manager, economic initiatives director, fields and facilities director and the tourism director – came about through retirement and vacancies, and brought about reorganization of some departments, he said.
Solid waste and street maintenance moved under Public Works; fleet services, facilities management and seasonal fuels reduction staff moved to Recreation Services; and code enforcement and fire/safety inspection to Community Development.
In the past 10 years, fulltime equivalent positions (FTE) in the city has dropped from 573.5 to 494, which includes the loss of 3.5 FTEs in FY18.
"We're definitely running lean. If you've lived here a while, you've seen the service levels have had to be changed. That's what you got to do when the funds aren't there. The question is, what level of service do the citizens want," Woodfill said.
Fire Department
Prescott Fire Chief Dennis Light presented to the council on May 25, calling his budget "attainable and manageable." He is requesting a reclassification of one battalion chief to move up to assistant fire chief. A salary adjustment to cover the position's added duties would cost $6,500-$7,500.
The department moved three personnel to Community Development – two fire inspectors and a secretary – to work under the Community Risk Reduction Division. Lars Johnson, Budget and Tax manager, said the transfer made sense with reclassification of positions to building inspectors and permit technician.
The 16 months of fire station brownouts created added risk to the community, Light said. Thanks to a federal grant through Staffing for Adequate Fire and Emergency Response (SAFER) in April, nine firefighters were hired but only for the next two years.
Because the majority of calls are not fire-related but medical or assists, council wanted to know if it was feasible to send a smaller vehicle on those calls. Light said his firefighters often go from call to call to call and must be prepared to have "all the tools in the toolbox" to respond to a fire call at any time.
The department is requesting $100,000 in one-time funds for new extrication equipment. Firefighters experienced a catastrophic failure of such a tool while on a wrecked vehicle call; the units are in dire need of replacement, Light said, as the equipment is 12 to 14 years old.
He also requests four new thermal imaging cameras for $40,000 and a blinker sign warning system for $8,595. Next fiscal year he's looking at fire field radio replacement with a cost of about $330,000.
Recreational Services
Joe Baynes, recreation director, said he is loving the collaborative approach with tourism and economic development staff who deal with Prescott residents' quality of life.
"Recreation creates spending in the community and creates revenue," he said, adding that Prescott is now called a "recreation destination."
He wasn't able to answer questions about the $3.8 million Open Space Acquisition budget because discussion on any potential real estate transactions takes place in executive session.
He held off on new golf carts an extra year, running them five years rather than four, but now requests $500,000 to pay for replacements. He had an increase of about $50,000 in the budget to cover the increase in minimum wage for some staff.
"We continue to be more creative and continue to find more opportunity," Baynes said, adding that many people who attend conferences in the area also want to golf.
He is working to build the number of golfers in the community by running a junior golf program with high schools and Embry-Riddle Aeronautical University.
The City Council will continue with budget talks between now and June 15 when the tentative budget comes up for adoption. The proposed FY18 budget documents can be found at www.prescott-az.gov/services/finance/.
More like this story