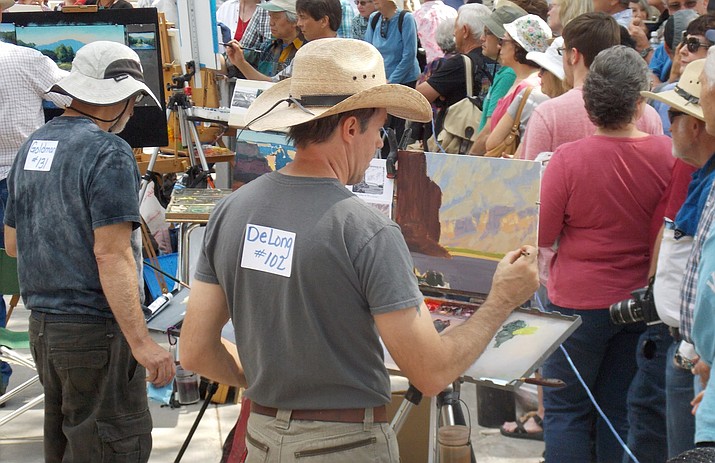 Originally Published: May 25, 2017 9:21 p.m.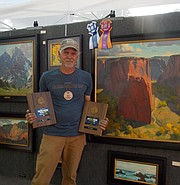 The Phippen Museum's 43rd annual Western Art Show and Sale over the Memorial Day weekend is a big tradition with art lovers, Western collectors, and tourists from all over the state and local community who enjoy looking at fine art on Prescott's historic courthouse plaza.
The show draws some of the country's most talented artists in oil, watercolor, acrylic, mixed media, pastel, sculpture and drawing. It offers visitors the opportunity to meet with the artists and to purchase pieces directly from them.
The event begins at 9 a.m., Saturday through Monday, ending at 5 p.m. Saturday and Sunday and 3 p.m. on Monday. The weather forecast is for temperatures in the mid-80s – perfect for a stroll under the shady courthouse trees. In addition, admission to the museum is free all three days.
The ever-popular Quick Draw art demonstrations take place on the north side of the plaza on Saturday and Sunday, at 2 p.m. More than 23 participating artists are challenged to create a finished piece of artwork in 60 minutes. These amazing pieces are immediately auctioned off to onlookers while the paint is still wet. Get there early to find a good spot to watch artists "under the gun."
This is also the museum's 14th annual Miniature Masterpiece Show and Sale that began May 2 and runs through May 29. More than 60 pieces of art are on display at the museum (and website). A special preview and catered reception takes place at 7 p.m. on Friday, May 26, for $20. Reservations are necessary.
To place an intent-to-purchase, visit or contact the museum up until the drawing time at 11 a.m. Monday, May 29.
These aren't the only events the Phippen is hosting. The Denim to Diamonds Gala Dinner at 6 p.m. on Saturday, May 27, includes cocktails, appetizers, dinner and live Western entertainment by old-time string band, Pick 'N Holler. Tickets are $125 each, or a table of eight for $1,000.
On Sunday, the Artist Award Ceremony takes place at 11 a.m. on the courthouse steps. The public is encouraged to attend and celebrate the tremendous skill and effort of the show's outstanding participating artists. Awards are presented in 10 different categories, including The George Phippen Memorial Foundation Award and the Phippen Family Award.
Lastly, a new show and sale called PAWs, or "Phippen Award Winners: Small Works to Go," is available for viewing and for sale. People may purchase and immediately take home artwork created by award winners from the past three Memorial weekend shows. PAWs runs through June 4, and the artwork can be viewed online at www.phippenartmuseum.org.
For more information on these events, or to make reservations for the Gala, contact the Phippen Museum at 928-778-1385.

More like this story