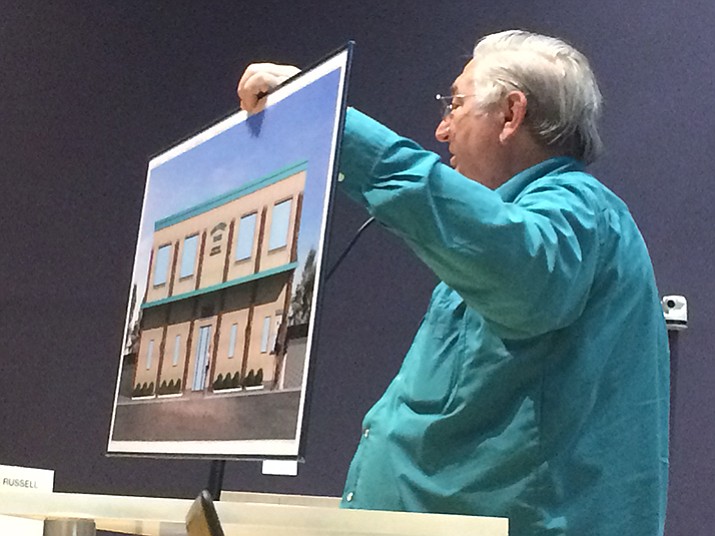 Originally Published: May 20, 2017 6 a.m.
Prescott Valley Performing Arts is slowly, but surely on its way to achieving the dream of having its Main Street Theater, said Executive Director Clyde Neville.
In March, Neville went before the Prescott Valley Town Council to present plans for the theater following the signing of all the paperwork. Back then, he said that if all went well the organization would be ready to move forward with engineering and getting all the utilities to the property the first week in April.
However, one of the companies that was donating most of the concrete is going out of business, Clyde said. As such, Prescott Valley Performing Arts has set up a GoFundMe page to raise the money for the concrete. As of Friday, eight people have donated $630 and the goal is $10,000.
"That's the value of what it would take to do it if I had to buy it outright," Neville said, mentioning he's also "looking down other avenues."
The goal is to be able to pour that concrete within 60 days from Wednesday, April 26, after submitting the engineering permit, which will give the organization three weeks to get the utilities in and the pad prepared, Neville said. After that it's 45 days to get everything else ready and then it'll be time to pour the slab, he said. The shell will be constructed after that, Neville said.
Prescott Valley Performing Arts has to wait until after May 22 to be able to pour because the second weekend of the month is Prescott Valley Days followed by the Home & Garden Show, Neville said. Nobody wanted anyone to fall in an open ditch, he added.
Neville said he's looking forward to having the building, which will be next to the Prescott Valley Event Center with the event center's north wall six and a quarter inches from the theater's south wall. It'll look like an art deco industrial type building, he said.
Though the organization has been putting on shows in different places around town, most recently across from Harkins Theatres, but none of those locations have let the organization run wires, hang lights or put holes in walls.
"In our own building, we can do all that stuff," he said. "All the lighting and sound and creative freedom."