Originally Published: May 19, 2017 6 a.m.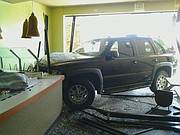 A car went through the front display windows of a restaurant Thursday morning, May 18, but no one was seriously injured, Prescott Fire Division Chief Don Devendorf said.
It happened about 11:15 a.m. Fire crews responded to find a vehicle most of the way inside the Alfonso's restaurant in the Fry's shopping center on Willow Creek at Willow Lake.
Devendorf said the driver mistook the accelerator for the brake.
Three people were in the vehicle and received minor injuries, but refused medical assistance.
The Alfonso's is being renovated and was not open.
No one else was injured.