Originally Published: May 18, 2017 8:42 p.m.
Updated as of Monday, May 22, 2017 6:41 AM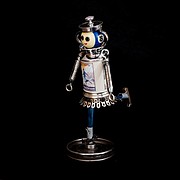 A red-and-white striped pool ball, a few nuts and bolts, and a tin tea container: They may sound like random items, but for creators of "fauxbots," the objects can create magic.
'Tis Art Center & Gallery is currently the site of the "F-Stops and Fauxbots – Making Magic with Photography and Found Objects" art show by Melinda Anderson and Debbie Thomas.
The show debuted recently and will run through June 13, and also will be on display for the 4th Friday Art Walk reception from 5 to 8 p.m. Friday, May 26, at 'Tis.
Thomas, who created a colorful Scotsman from the tea tin and pool ball, describes fauxbots as "whimsical found-object robots."
A life-long artist, Thomas said she gravitated to sculpture, and then began combining that with jewelry making skills.
Thomas' fauxbots "are purely decorative," she said in a written description of her work, adding, "I strive to make each have a charming personality that will make people smile."
Along with the Scotsman, Thomas' pieces at the show also include "Rise & Shine" – a figure with a tea kettle body and clock face – and an ice skater in motion.
"F-Stops and Fauxbots" also showcases creative photographic techniques through Anderson's nature photos. "I love all kinds of subjects for photography, but am drawn especially to nature and people," she said of her work.
Finding beauty in light, line, shape and color, as well as in negative space and soft focus – Anderson said she is fascinated with the "small details of nature."
She uses alternative camera techniques, such as intentional camera movement and multiple exposures, to create an impressionistic feel – a quality that is especially visible on her deeply textured work, "Fisherman."
'Tis Art Center & Gallery is located in downtown Prescott at 105 S. Cortez St.