ANGIE WANG, Associated Press
Originally Published: May 15, 2017 9:07 p.m.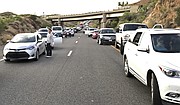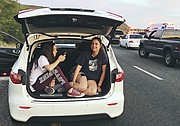 PHOENIX (AP) — Two collisions on Interstate 17 sent nearly a dozen people to the hospital and brought the highway to a complete standstill for nearly five hours, prompting drivers to get out of their cars to take walks and children to motor around on scooters to pass the time.
Authorities say 11 people were taken to hospitals for non-life threatening injuries suffered during wrecks that caused the miles-long backup.
The first wreck occurred about 5:45 p.m. Sunday near Black Canyon City, when a motorcyclist lost control and was thrown off the bike. Traffic began to back up when drivers stopped for the motorcyclist.
Three minutes later, a big rig collided with the back of a tour bus, which then rear-ended a pickup truck and halted traffic returning to the Phoenix area on the main north-south route to Flagstaff.
The Arizona Department of Transportation said traffic was backed up seven miles at one point during the closure, which ended at 11 p.m. Traffic was detoured through Prescott and Wickenburg during the closure.
Brian Swanton was caught in the backup with his wife and three daughters. He said the drive from Camp Verde to his home in Phoenix should have taken about an hour, but ended up taking six. He said he felt lucky that the weather was nice and his family was not in a rush to get home, unlike a couple he befriended on the interstate that missed their flight home to New York.
Cars initially inched toward the shoulder to make room for emergency vehicles, but people began to get out of their cars after one emergency vehicle split the two lanes of traffic down the middle. Children chased each other on scooters, and others tossed bean bags, walked their dogs and handed out candy and water.
"People parked their cars on the shoulder and created a party atmosphere in between," Swanton said.
His family took a walk up the interstate to pass the time, and other drivers got out of their cars to get to know their short-term neighbors. Swanton added he couldn't get reception on his phone, but his daughter was following the Arizona Department of Transportation Twitter account for updates.
Monika Alesnik, who was driving with her family from Sedona to their home in the Phoenix area said it was a challenging Mother's Day night because her family couldn't figure out what was going on without cell service. Still, everyone around looked out for each other.
"It was a very cordial environment, considering everyone was frustrated," Alesnik said.
The crash occurred along a stretch of highway that has long been susceptible to wrecks that create nightmarish commutes on a heavily traveled corridor connecting Phoenix with Flagstaff. Traffic also backs up during busy weekends like Memorial Day and Labor Day when Phoenix residents head to higher elevation to cool off.
The Arizona Department of Transportation is studying the interstate for possible solutions to the traffic and accident problems.
More like this story
SUBMIT FEEDBACK
Click Below to:
This Week's Circulars
To view money-saving ads...