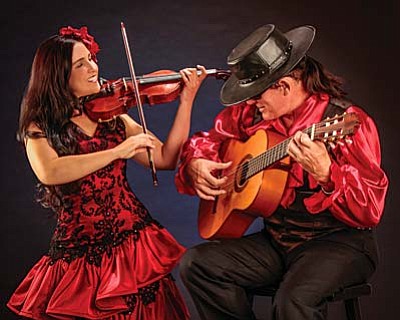 Originally Published: May 4, 2017 8:48 p.m.
Updated as of Monday, May 8, 2017 6:42 AM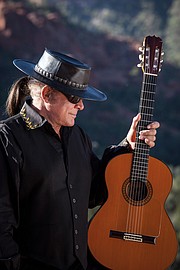 You might recognize him by his resonating voice, his bolero hat or his all-black flamenco-style outfit.
Esteban is a brand Stephen Paul created several decades ago. He has used the persona to gain commercial success both for the camera and on stage.
For the last few years, he and his band have visited Prescott on a semiannual basis to perform at the Elks Theatre.
"I just love that town," Paul said.
This time around, on Saturday, May 6, he'll be offering up a real mixed bag of goodies.
"We go from a real slow, kind of emotional moment into pure Americana British style rock-and-roll just to stir the memories," Paul said.
From there, he'll dip into some old Spanish love songs before diving into an upbeat Latin groove session.
Tipping his hat to Prescott, he'll wrap up the performance with a tribute to the city's history, steeped in cowboys and the Civil War.
"There was a day that the only people in Prescott were cowboys," Paul said. "You go back to the 1840s, that's like the gem of the west."
In 1864, the city was then founded at the behest of Congress and President Abraham Lincoln in an effort to secure the area's mineral riches for the Union forces during the Civil War, according to Prescott.com.
Making up Esteban's band is Teresa Joy — his daughter — on violin, Joe Morris on drums and Raul Yanez on keyboards.
Joy has been playing with her father since she was in sixth grade.
As he became more recognized and performed at larger and larger venues, she kept up by continuously honing her craft.
Now, the Elks Theatre is one of their favorite places to perform.
"People in Prescott are so cool," Joy said. "They're so open to art and giving artists their love."
The Elks appreciates Esteban's willingness to bring his show to Prescott as well.
"It is always a pleasure to have Esteban and his daughter perform at the Elks," said Colette Greenlee, the manager for the theater. "The music they bring to our community is like no other and is such a treat for our audiences. It is always a very moving and uplifting event."
Tickets can be purchased online at www.prescottelkstheater.com or at the door prior to the performance. Folks can also call the box office at 928-777-1370 Tuesday through Friday from 10 a.m. until 2 p.m.