Originally Published: March 30, 2017 9:13 p.m.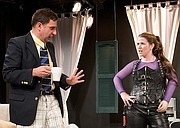 An amusing premise, unconventional characters, fresh actors and plenty of humor: They all add up to what is being billed as an entertaining performance at the Prescott Center for the Arts' Stage Too.
"The Naked Truth" – a play by Rich Orloff – will take to the stage at the 208 N. Marina St. theater from April 6 to 23.
Director Rob White said he was attracted to the play, in part, because it combines "humor and a nice story" with some slightly zany character lines.
"A couple from Ohio inherits a clothing-optional resort in Key West," White says of the play's main theme. Add to that "some pretty crazy characters," and White said the result is a fun time on the stage.
"The actors get to do what they do – just create," White said of the production. "It will be entertaining from the minute you walk in the door until you leave."
White adds that the production will feature several performers who will be new to local audiences. "We have such a great group of cool actors," he said. "You'll see some new faces, and they're all really good."
Playwright Orloff's website offers a lively description of the characters. Along with the Ohioans who inherited the hotel, it states: "The staff includes a gay front desk clerk who's an aspiring drag queen and a lesbian handyman who moonlights as a dominatrix."
White, who went to film school at the University of Southern California, notes that he has directed about a half-dozen other local productions, including the recent "Charley's Aunt," and "Glengarry Glen Ross" (cast with women instead of men).
"I like entertaining, and we're having a lot of fun," he said of "The Naked Truth."
More information on ticket sales is available online at: http://www.pca-az.net/stage-too-season.html, or by calling the Prescott Center for the Arts at 928-445-3286.
More like this story