Originally Published: March 20, 2017 6 a.m.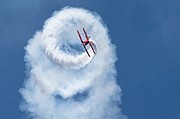 Sean D. Tucker, a highly decorated legend in aerobatics, will be speaking at Embry-Riddle Aeronautical University on Tuesday, March 21, for the school's Prescott Aviation History Program.
The speaker series will take place in the Davis Learning Center Auditorium from 7 to 8 p.m. Admission is free.
Tucker has more than 20,000 flying hours, multiple hall of fame inductions and numerous honorary team memberships including the Blue Angels and United States Air Force Thunderbirds. He was also recently awarded the R.A. "Bob" Hoover trophy in Washington D.C.—the first recipient since Hoover, himself. The award represents airmanship, leadership, mentorship and passion for aviation that inspires a love of flight in countless others.
For more information on the talk, contact Professor Nick Manderfield, ERAU Prescott Aviation History Program coordinator, at mandern@erau.edu or 928-777-6985.
Information provided by Sean Tucker and Embry-Riddle Aeronautical University