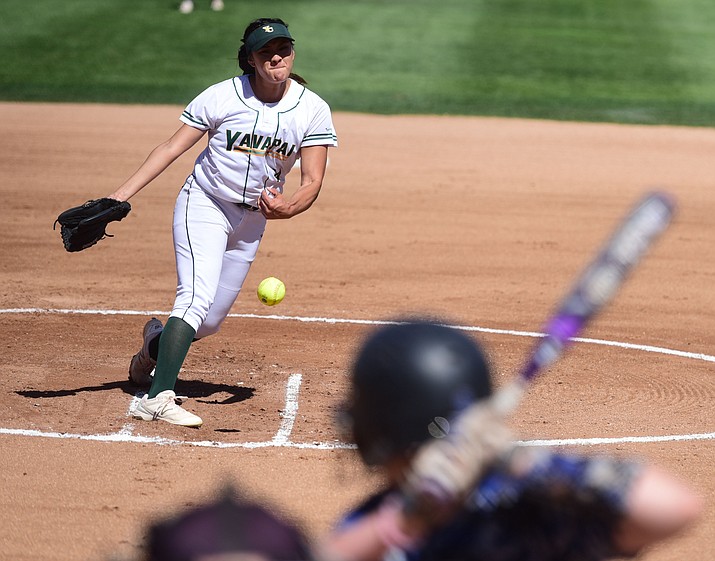 Photo by Les Stukenberg.

Originally Published: March 19, 2017 6:02 a.m.
Photo Gallery
YC vs South Mountain Softball 031817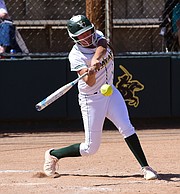 Yavapai College's softball team rolled on with its incredible run Saturday afternoon, sweeping South Mountain Community College by shutout to win for a whopping 22nd time in its last 23 games.
The Roughriders remain in first place in the Arizona Community College Athletic Conference (ACCAC) standings with a 24-2 overall record. They are 28-3 overall. South Mountain, losers of eight in a row, dipped to 6-20 and 8-23.
With its 9-0 victory in six innings in the first game and 7-0 win in game two over the Cougars, National Junior College Athletic Association (NJCAA) Division I Yavapai has now tallied four straight shutouts, outscoring the opposition a combined 44-0.
In the second game, three Roughriders pitchers combined for the blanking. Kiana Spencer garnered the victory in the circle, allowing no runs on four hits in five innings. She struck out three and walked one. Santana Parra (no runs on three hits, one strikeout) and Amy Robinson (no runs, no hits, one strikeout on seven pitches) polished off South Mountain in the sixth and seventh innings, respectively.
At the dish, Jaydee Boursaw hit two home runs and Andrea Sotelo chimed in with a dinger of her own. Boursaw finished 2-for-3 with four RBIs and two runs scored. Sotelo was 2-for-2 with two RBIs and three runs scored.
In the opener, Yavapai pounced on the Cougars early, grabbing a 6-0 lead by the end of the third inning. YC tacked on a run in the fifth and two more in the sixth to complete the rout.
On the pitcher's slab, Robinson tossed a two-hitter in six innings for the win. She fanned three and walked none.
At the dish, Sotelo went 3-for-4 with two homers, including one in the first inning and the other in the sixth, and four RBIs. She doubled as well.
Yavapai ended the contest with 10 total hits, four of which were homers. Boursaw and Mariah Kalamaras also provided an HR apiece. Like Sotelo, Shayna Ige (2-for-3, run scored) and Mahina Chong (2-for-4, two doubles, RBI, run scored) had multiple hits. Karissa Pena aided in the effort with two RBIs.
UP NEXT
The Roughriders, who improved their record to 10-0 at Bill Vallely Field in Prescott Saturday, will be tested in a conference twin-bill at noon and 2 p.m. Tuesday when they play host to NJCAA Division II No. 3-ranked Phoenix College.
Yavapai and Phoenix lead the conference's D-I and D-II standings, respectively. The Bears (28-4 overall, 22-4 conference) are about as hot as Yavapai, as they are riding a conference-best 16-game winning streak. Phoenix swept Paradise Valley C.C., 11-1 and 8-0, Saturday on the road.
After the end of the regular season in late April, Yavapai will compete in the NJCAA Region I, Division I tournament May 5-7 at the No. 1 seed's field.
Regionals will give the Roughriders a chance to earn another berth into the NJCAA D-I National Tournament May 17-20 in St. George, Utah. They are the defending Region I, Division I champions.