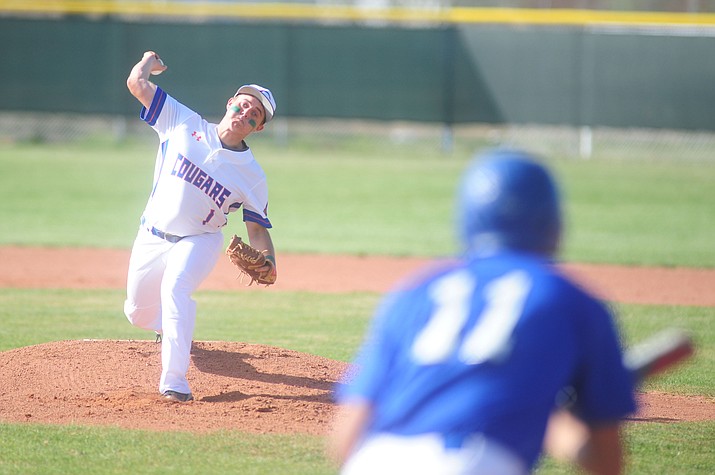 Photo by Les Stukenberg.

Originally Published: March 18, 2017 6:02 a.m.
Updated as of Sunday, March 19, 2017 6:05 AM
Photo Gallery
Chino Valley vs Bagdad baseball 031717
Bagdad left-handed ace pitcher Israel Loveall on Friday sensed an opportunity to avenge a string of narrow losses against Yavapai County foe Chino Valley through the years.
As it turned out, he was right.
On a warm and sunny afternoon at Nesbitt-Pratt Field, Loveall allowed two runs, one earned, on eight hits, leading the visiting 1A Sultans to a 3-2 victory over the 3A Cougars. Loveall registered six strikeouts and issued no walks on 100-plus pitches.
"They're a good team – we've played them in the past and they've hit the ball really well," a grinning Loveall said from the visitors' dugout afterward. "Me, it was more mixing up my pitches. I had my fastball, change and curve [going].
"We've played them every year since my [older] brother was in. And it seems like we've always come so close and somehow end up losing it. It just felt good that we were able to come through and win the game."
Bagdad senior catcher and leadoff hitter Benjamin Loveall paced the visitors at the plate, going 3-for-4 with a triple and two runs scored. Israel went 1-for-2 with a triple and two walks.
Benjamin credited Israel for his pitching performance.
"He was phenomenal," Benjamin said. "He was able to keep them off-balance with his [off-speed and breaking] pitches. Working with him has been a blast this year. He's getting even better."
Defending 1A state tournament runner-up Bagdad also benefited from three Chino fielding errors, two of which scored a run apiece, in the tide-turning third inning. The runs scored when a pair of pickoff attempts by Chino ace pitcher Skylar Brooks went awry with runners in scoring position.
"Those are such a boost," Israel said about scoring runs on errors. "They're just unexpected. I know this team, they don't make a lot of them, so whenever they do have them, I'm glad we were able to capitalize off of it."
Chino coach Mark Middleton said the errors affected his team's confidence. He also mentioned having a short bench with starting centerfielder Jayden Loftin out due to a shoulder injury.
"I think shoulders dropped – everybody was trying to make stuff happen too much, and we talk about that a lot," added Middleton, who called Bagdad "a great ball club." "We were just pushing and trying to make outs when we should just be laying up. We didn't really play our game."
Brooks surrendered three runs, two of which were earned, on six hits in suffering the loss. He struck out six and walked four, one intentionally, as his record dipped to 1-2.
"Bagdad has great hitters, so a couple mistakes – leaving the ball up and they smash it – you've got to be careful with that," Brooks said.
Trailing 3-0 in the fourth, the Cougars had a chance to pull within a run of a tie. Tyler Hixon looked to start a rally when he blooped an RBI single with no outs to cut it to 3-1.
Three batters later, with two outs and Michael Paulus at second, Hector Casas ripped a single up the middle. But as Paulus rounded third, he tripped on the lip in the grass that abuts the dirt on the third-base line.
The inning ended with Paulus being gunned down between third and home plate. Israel caught the relay throw from the outfield and tossed the ball to Benjamin for the final out.
"We just didn't play our best today," Paulus said. "We came out a little lazy at the beginning. We started to pick it up later at the end, but then it was too late."
However, the game still wasn't over. In the sixth, Chino's Kaleb Chacon laced an RBI single to right with two outs to trim it to 3-2 and set up an exciting finish.
Brooks kept the hosts in this one, tossing 3-1/3 innings of shutout ball, from the fourth to the beginning of the seventh. The left-handed Paulus came on in relief with the bases loaded and one out in the seventh and struck out the only two Sultans batters he faced.
And yet with a chance at a walk-off win, the Cougars ended the contest with a whimper, as Israel Loveall faced the minimum. Andrew Granillo and Johnny Gilbert struck out swinging to open the frame and Brooks grounded out to second base to end it.
With the setback, the Cougars' record dropped to 2-1 in power-point games, 3-5 overall (includes tournament contests). The Sultans improved to 8-2 overall, 5-0 in power-point games.
"This is a tough loss," Brooks said. "But we just need to get over it and go back and work hard the rest of the week, and go get our section [region]."
UP NEXT
Chino Valley will continue on with its three-game home stand at 3:45 p.m. next Tuesday, March 21, when the Cougars face Kingman for their 3A West Region opener.
Bagdad will play host to 1A West opponent Valley Lutheran at 5 p.m. next Monday.
Follow Doug Cook on Twitter @dougout_dc. Reach him at 928-445-3333 ext. 2039, or via email at dcook@prescottaz.com.