Photo by Cindy Barks.
Originally Published: March 16, 2017 8:16 p.m.
Updated as of Monday, March 20, 2017 7:07 AM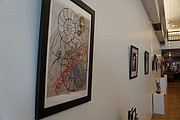 Walking into the 'Tis Art Center & Gallery in downtown Prescott, a casual observer could be excused for assuming the current exhibit features modern paintings or contemporary photographs.
A closer look will reveal, however, that the exhibit is actually a fusion of techniques, materials, media, and colors.
The "Making Our Mark 2017" show, which continues through Tuesday, March 21, features contemporary printmaking – an art form that brings together such varied techniques as woodcut, engraving, etching, screen-print and lithography.
The works of about 20 local artists are currently on display at the South Cortez Street gallery, featuring such unique pieces as Saveria Judge's monoprint, Pumpkin Leaves & Garlic Chives; Maria Lynam's Bamboo Montage; and Mary Lou Wills' Solitude IXV – an original hybrid, monotype, gold leaf, digital.
Wills, who has been doing printmaking for about 14 years, said the artists are made up largely of members of a Yavapai College course on advanced printmaking.
A painter in her younger years, Wills said she later became interested in printmaking because it brought together so many different techniques and skills.
Depending on the piece, the artist might tap into technology for digital printing, alongside use of an old-style press.
Other techniques include: woodcut, one of the oldest and simplest form of printmaking, involving an image cut into a block of wood; linocut, consisting of a layer of linoleum usually mounted on a block of wood; intaglio, using an image cut into the surface of a plate; engraving using a metal plate; etching using acid to bite an image into a metal plate that is coated with an acid-resistant ground; and stenciling, a process of printing through an opening in a material or a cutout design.
"Each one is unique," Wills said, adding that printmakers "really use a lot of creativity."
'Tis Gallery Host Judith Skinner also emphasized the creativity and uniqueness of the pieces. She pointed, for instance, to Judge's "Pumpkin Leaves & Garlic Chives," for which the artist relied on the real thing to recreate the ridges and veins of the leaves, while Wills' Solitude IXV combines monotype, gold leaf, and digital for an abstract landscape.
'Tis Art Center and Gallery is located at 105 S. Cortez St. It is open from 10 a.m. to 5 p.m. Mondays, Tuesdays, Thursdays, Fridays and Saturdays, and from noon to 5 p.m. on Sundays.
More information about the exhibit is available online at: http://www.tisartgallery.com/making-our-mark-2017-february-23-march-21/.