Originally Published: March 16, 2017 8:26 p.m.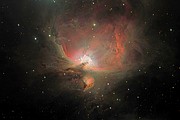 With the weather warming up, the Prescott Astronomy Club is pumping up its public outreach.
A nice introductory event the club will be hosting on Saturday, March 18, is a star party.
Though they tend to host a star party every month, March is usually the first month of every year that the event opens up to more than just the club's members.
"In the colder months, December, January and February, we don't hold them," said club president Jeff Stillman.
This month's party will be hosted at the Highlands Center for Natural History from 7:30 to 9:30 p.m.
The club's members will bring their personal telescopes, point each one at different objects in the night sky and allow anyone in the public to use them; all the while explaining to users what the objects are.
"We've spent some time learning how to use the telescopes and we like to provide the opportunity for other people to see what we see," said Jerry Shaw, a club member.
Attendees should expect to see the Orion Nebula, various clusters, galaxies and double stars (stars that appear close to each other).
"We'll have a really nice partial moon that we'll be looking at — that's always good — and Jupiter's quite high in the sky," Shaw said. "I think there are also some objects in the Big Dipper we can look at this time of year."
About 10 club members are expected to be at the event with their telescopes. Shaw said all three major types of telescopes (Dobsonian, refractor and reflector) will be available to use.
"They'll give you slightly different views," Shaw said.
Refractors will provide a good look at clear objects like the moon and planets, Shaw explained; Reflectors are better for deep sky objects; and Dobsonians have a reflector, but it sits on a groundmount rather than a tripod.
This particular star party is in conjunction with a hike hosted by the Highlands Center. The hike will take place before the star party. Those wishing to attend the star party are not required to go on the hike, however, Shaw said.
For more information about the hike, call the Highlands Center at 928-776-9550. For more information about the star party, contact the astronomy club at 928-778-6502 or at 928-848-1513.