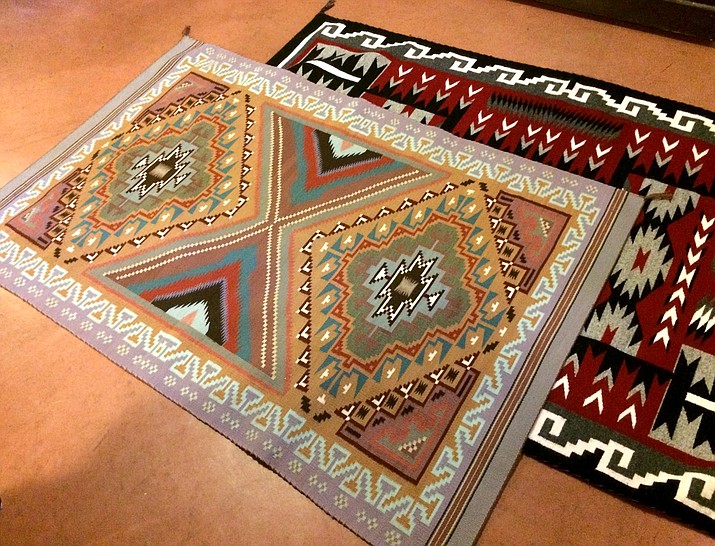 Photo by Sue Tone.
Originally Published: March 16, 2017 9:03 p.m.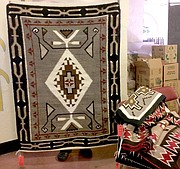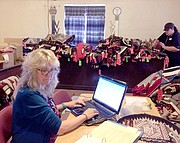 More than 300 rugs, plus pottery, baskets, jewelry and Kachinas, will go on auction Saturday, March 18, at the Smoki Museum. Preview opens at 9 a.m. and ends at 11:30, with the auction beginning at noon.
This is the 20th year for the renowned event that brings authentic Navajo weavings to market. Bruce Burnham of R.B. Burnham Trading Post will serve as auctioneer. The Burnham family has been trading with the native people of the Four Corners area for five generations.
Jeff Ogg of Ogg's Hogan has been collecting Navajo rugs from private collectors wanting to sell on consignment.
"Jeff Ogg is our resident expert. We totally depend upon him," said Smoki Executive Director Cindy Gresser, adding that he helped originate the auction and has been a vital part of the event's success. "We are fortunate to have such a knowledgeable expert right here in Prescott."
Tonight, March 17, the museum offers its popular Friday night preview event, "A Touch of Green," from 5 to 7 p.m. A small selection of items "with just a wee bit o' green" will be auctioned at this preview.
While some rugs are modern-day pieces of artwork, others have history that makes them valuable by way of design, use of color, age or maker.
One older rug in black, white and grays woven in the 1930s will start at $1,000 in the bidding process. It contains a symbol that weavers had abandoned since World War II. The symbol is usually associated with the Nazi Germany as the swastika.
Contemporary weavers, however, are beginning to integrate the "whirling logs" back into their artwork, Gresser said. In the Navajo culture, it represents migration and the four winds, and is recognized as a symbol of good luck.
A smaller round rug woven by Mary Yazzie has a starting bid of $500. It depicts a Mother Earth Father Sky sand painting.
Some well-known patterns represented in more contemporary colors make up some of the 300 rugs. Included are the Storm pattern, Burnt Water, a Revival Chief's blanket with a pictorial train running through the center, and Teec Nos Pas pattern made with green and dark red diamonds.
Historic Indian art also is for available. Funds raised from the auction help with the museum's operations.
The Smoki Museum is located at 147 N. Arizona Ave. Registered bidders receive free admission.