Originally Published: March 13, 2017 6:05 a.m.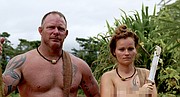 Last night, Sunday, March 12, Prescott resident Giovanna Horning made her television debut on Discovery Channel's survival show "Naked and Afraid."
The 33-year-old first heard of the show several years ago while living in Georgia. A good friend of hers tipped her off about the opportunity and encouraged her to put in an application.
"She was like 'Gio, you need to apply for this show,'" Horning said. "'It's called 'Naked and Afraid' and they do all of this stuff that you normally do.' Cause she knows I'm like a barefoot hiker, long distance backpacker."
After watching a few episodes, Horning agreed with her friend.
"I started realizing that all of the people on the show were doing things that I could do better; or that I knew better than to make stupid mistakes that they made," she said. "I was like 'oh my God, I could actually do this.'"

The American reality television series follows in the steps of survival shows such as "Survivorman," "Man vs. Wild" and "Dual Survival." However, those featured in the show are regular folks — rather than survival experts — who believe they can withstand living in a random remote wilderness location for 21 days with nothing but a couple survival tools, such as a hatchet and duct tape. Each episode always includes a man and a woman who meet for the first time right before taking on this challenge together.

Soon after hearing about the show, Horning moved with her husband to Prescott, where she began the application process.
Following a series of interviews, she was determined a qualified candidate and was scheduled to undergo the experience in September 2015. Her assigned locale was an Ecuadorian cloud forest.
"I was expecting to be a lot more afraid going into it, but I really wasn't," Horning said. "I was excited."
The first few days in Ecuador were spent in comfort, she said. She got to acclimate to the time zone and learn a little bit about local customs and survival techniques.
The reality of the situation didn't quite set in until she was driven out to the middle of nowhere, told to take her clothes off and walk in a set direction to meet her survival partner.
"That was the moment that it became super real for me; like actually feeling the sensation of the jungle on my feet, the initial bug bites and sunburn and meeting another human being completely nude," Horning said. "It was all just kind of crazy. I was basically in shock the whole time."
That shock didn't stop her from kicking butt throughout the show, however.
Despite daily tropical storms, frigid temperatures at night and countless encounters with potentially dangerous jungle wildlife, she made it through 19 of the 21 days.
In fact, she believes she would have made it the entire 21 had she not been forced to quit by the producers of the show.
Every morning throughout the filming of the show a production crew hiked several miles to meet Horning and her partner in the wilderness. At nightfall, the crew would leave the survival partners alone until the next morning.
Toward the end of the experience — after her partner had already chosen to give up and go home — heavy rains were making it increasing difficult for the production crew to make it to Horning's campsite.

It got so bad that despite Horning's reluctance to quit, the crew thought it was best to pull her out of the situation for safe measure.
"They made me leave," Horning said. "Obviously I was kind of relieved to some degree, but at the same time I was really upset. I had worked so hard to get there and only had two days left."
It was during these last few days that she drew a significant conclusion about herself.
"I learned that I'm a lot stronger than I thought I was mentally," she said. "When Wes (her partner) was crumbling, missing his family and having a really hard time, I was still feeling great."
And though the whole ordeal was more difficult than she ever imagined, Horning said she would do it all over again in a heartbeat.
"I would go tomorrow," Horning said.
Related Stories
More like this story