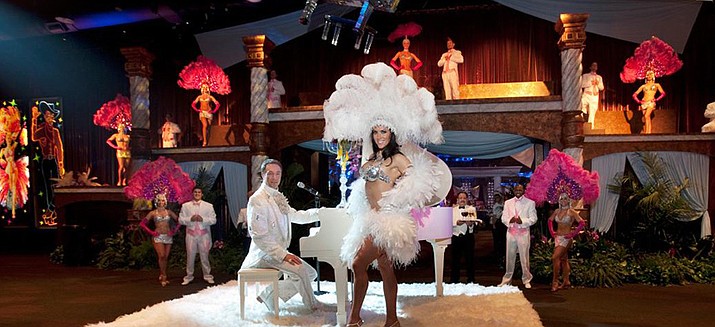 Originally Published: March 9, 2017 7:17 p.m.
Updated as of Monday, March 13, 2017 6:53 AM
Wine, song and elaborate auction items: They all will combine to conjure up the "Magic of Vegas" during a Prescott Center for the Arts fundraiser next weekend.
The PCA's inaugural fundraiser gala will take place from 2 to 6 p.m., Saturday, March 18, at the organization's theater at 208 N. Marina St., Prescott.
Billed as "Where Magic Happens," the event will feature Las Vegas entertainer Wes Winters, who is known for his extensive vocal, stage and piano talents. According to his website, Winters was first inspired to play the piano at age 5, after seeing famed Las Vegas pianist Liberace on television.
"He's a great entertainer," PCA Executive Director Robyn Allen said, noting that Winters performed "A Musical Tribute to Liberace" at the Liberace Museum – a show that he also wrote and produced. Winters followed that up with a Las Vegas Strip engagement at Planet Hollywood, according to his website.
Along with the entertainment, the gala will feature valet parking, wine pour from Prescott Winery, heavy appetizers, and desserts – all included in the $75-per-person ticket price. The event will also include a cash bar.
Allen said the idea for the gala was conceived as a way to raise money to help with various needs at the local theater.
"We're growing our youth program," she said, adding that a portion of the funds also would be earmarked for PCA's general operations.
The event will feature 100 tickets, Allen said. "Seating is limited," she added, and ticket sales have been accelerating as word about the gala gets out in the community.
"We're really getting excited about it," Allen said, noting that the inaugural event is just the beginning of PCA's plans for the fundraiser.
"We have dreams of this growing into something much larger," she said. While this year's event will take place in the theater and its lobby and courtyard, Allen said future years' galas could also involve placing a tent in the street.
Along with the food, beverages, and entertainment, the gala will feature about 70 silent-auction items, as well as a live auction.
Allen said the items, which have been donated by the community, include a variety of artwork, travel, entertainment and gift items.
Among the offerings will be a trip to New York, tickets to Disneyland, and a home dinner for six prepared by a chef.
One-half of the cost of the tickets is tax-deductible, Allen said. Tickets are available at: www.pca-az.net. Sponsorship opportunities also are available by contacting Allen by email at: director@pca-az.net.