Originally Published: March 2, 2017 8:25 p.m.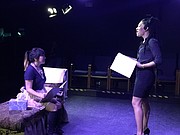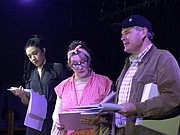 Does "Men are Dogs" engage in male-bashing? Well, yes, it does. But playwright Joe Simonelli's play goes so over-the-top that it's hard for even male audience members to object. Just ask my husband Sam. I thought he'd walk out, but he loved the show!
"Men are Dogs" is part of the "Reader's Theatre" series at Prescott Center for the Arts' Stage Too "back alley" theater. These are not full productions, are sometimes called "half productions" or "staged readings," and may or may not have sets, props or the players moving about on the stage. Most often the actors will read from scripts.
Director Parker Anderson gave "Men Are Dogs" the feel of a full production by providing more than the usual complement of props, costumes and stage movement. But attendees of Stage Too readings will quickly find that such details don't matter as much as they may have thought. It's all about the actors and their ability to convincingly assume their roles.
In "Men Are Dogs," psychologist Dr. Cecilia Monahan (Mikki Russ) has serious issues of her own regarding men. Yet her practice specializes in treating women whose relationships are a mess. Could there be a conflict or two in this scenario?
Her patients include Allison (Jenny Kim), whose alphabet-obsessed love life leaves her open to a scant 1/26th of the field of available men. There is the bitterly enraged Madeline (Madelon Hendel). Then we have Jane (Ananda Bliss Streetman), who seems bright enough but lacks the sense to break up with a bank robber. Last is Loretta (Tina Blake), who wouldn't know a keeper from a bad boy even if she stopped partying long enough to think about it.
Enter Bob (Nathan Wiggins), the substitute delivery man who takes a liking to Cecilia. Her thorny demeanor would have sent most guys packing. But Bob keeps coming back for more of the amusing banter the two engage in.
Meanwhile, we find that Cecilia has advertised for a male helper to role play the part of the men in her group therapy sessions. Poor Tony (Bob Wright) takes the bait, but doesn't last half his first session, succumbing to all manner of abuse, both mental and physical, from the participants.
As Tony's replacement, delivery man Bob takes a crack at the role playing, and proves wholly up to the task in one of the best scenes of the second act. But Bob's true colors soon come to light just as Cecilia's barriers start to crumble.
All the while, Cecilia's eavesdropping live-in mother Rose (Mary Timpany) provides more than her share of the laughs throughout both acts.
In a final and uniquely honest scene between mother and daughter, Rose manages to get through to Cecilia, convincing her to take control of her life. The play ends on a poignant and satisfying note.
"Men Are Dogs" is both comedy and drama, making immense fun of itself only to end in a scene that takes itself seriously after all. Playwright Simonelli manages to strike the right balance, always keeping his audience guessing whether to laugh or cry. Director Anderson makes the most of his talented cast, capitalizing on every comic turn.
Find a free evening this weekend to see the entertaining "Men Are Dogs." You'll be glad you did.
"Men Are Dogs" will appear on Stage Too, in the alley off Cortez St. between Willis and Sheldon (behind Peregrine Book Co.) in downtown Prescott, with performances at 7 p.m. on March 2, 3 and 4. There will also be one matinee performance at the Prescott Valley Library, located at 7401 E. Civic Circle in Prescott Valley, at 1 p.m. March 4. A donation of $5 is requested at the door for all performances. For more information, visit the PCA website at pca-az.net or call 928-445-3286.