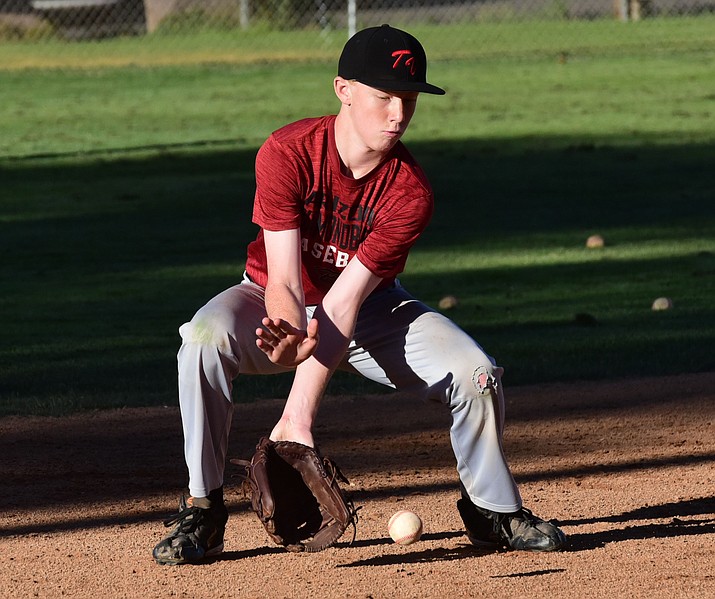 Originally Published: June 28, 2017 12:01 a.m.
The numbers only begin to tell the story. As the Prescott All-Stars prepared to play in the Little League District 10 Majors All-Stars Tournament beginning tonight, it wasn't hard to spot Scooter Schwartz on the practice field.
Schwartz, who just turned 13, is the tallest player on the team at 6-foot. He also carries some pretty big statistics, although he doesn't know the exact numbers.
"I think my average was like .700 or something like that," Schwartz said of his performance during the regular season. "I had maybe like eight or nine home runs. After that, I really don't know any more (stats)."
That's not surprising, since Schwartz brings a lot more than a big bat or strong arm to the team. He brings intangibles that are even more important. Just ask his skipper, Dan Streeter.
"He is a kid who understands it's a team game,'' Streeter said at practice Monday. "Where there is a need, he is always willing to step in. He plays with a quiet confidence and competitive spirit. He's a model for his teammates."
Schwartz's first name is Ben, but he has been called Scooter ever since he can remember. It has nothing to do with his baseball pedigree, however, despite his ability to scoot around the diamond at different positions.
"I think [the nickname] started when he was a baby,'' Scooter's father Ben said. "I think it was something we called him after he started crawling around the floor, and it just stuck."
After crawling, it didn't take long for the young Scooter to pick up a bat and ball. He started playing T-Ball when he was old enough with some of his current teammates.
Schwartz and his teammates have developed a bond over the years, playing together as All-Stars at Little League's different levels. This is the last year for them in Little League, and they have high aspirations.
"We're really excited," Schwartz said. "There are a lot of good teams in the tournament, though. We're not taking anything for granted."
Prescott opens against the Verde Valley All-Stars on Wednesday in the double elimination tournament. Streeter isn't revealing his strategy with Schwartz, although the player makes no secret of what his favorite position is.
While he carries a potent bat, the right-hander also loves to pitch. His fastball has been clocked in the high 60s consistently, and he has occasionally hit the low 70s on the radar gun.
"I like pitching, mostly because I can dictate the game,'' Schwartz said. "I like being on the bump a lot."
Schwartz's strategy on the "bump" is what every coach wants to hear. It's pretty simple. Throw strikes.
"I like to open up with a fastball, and get a first pitch strike,'' explained Schwartz, who also throws a curveball and changeup. "That really sets up the rest of the at bat. It gives you a better chance of getting the batter to maybe swing at pitches they shouldn't.''
If Schwartz isn't pitching, he'll probably be playing at shortstop or third base. He also did a lot of catching during the regular season. He'll do whatever is asked of him.
"He is our ace,'' said teammate Caden Pena. "He'll play anywhere he's needed."
"He is a very selfless player,'' agreed teammate Caden Streeter. "He helps everybody on the team get better. He's one of our best hitters, but he's not arrogant at all. He doesn't think he's all that or anything."
Not surprisingly, along with his baseball abilities, Schwartz is also a big fan of the game. He checks the box scores every day, and his favorite team is the Arizona Diamondbacks. His favorite player is Paul Goldschmidt, who carries himself on the field much the way Schwartz does. One of Schwartz's big thrills was getting an autograph from Goldschmidt a couple years ago.
"[Goldschmidt] is a good leader for his team,'' Schwartz said. "I went to a game, and he was signing down the third base line. I asked him if he'd sign a ball for me. He signed it, I said thank you, and he said to have a good day."
An A-B student, Schwartz will be entering the eighth grade in August at Mile High Middle School. He also plays basketball, and aspires right now to eventually play baseball in college.
But before school and basketball and college, Schwartz has some things to take care of this summer. It could be a magical one, with the Diamondbacks playing well and the District 10 Majors All-Stars Tournament about to begin.
"It's going to take a lot of work, and I think we have a team that can do something this year,'' Schwartz said.
If the team wins the tournament and advances to state, Schwartz will undoubtedly play a big part. He has the numbers, and intangibles, to prove it.
Kevin Hutson is a stringer for The Daily Courier. Follow him on twitter at @KevinHutson, or reach him by email at sportsdesk@prescottaz.com.