Originally Published: June 22, 2017 8:46 p.m.
Updated as of Tuesday, June 27, 2017 7:36 AM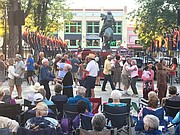 Two jazz big bands coming out of Yavapai College will be lighting up the Yavapai County Courthouse Plaza with fun rhythms on Tuesday, June 27, for the next installment of the 2017 Summer Concert Series.
The first band, the Roughriders, will be starting the show at 6:30 p.m. Made up of primarily college students, they're considered an intermediate-advanced group, said Christopher Tenney, an associate professor that's in charge of YC's jazz bands.
The second group, called the Trailblazers, will take over for a second set around 7:30 and wrap up around 8:30. This group is made up of primarily community members with some form of professional playing in their background.
Both are considered big bands, which in jazz terminology means a group consisting of about 12 to 25 musicians.
"They're made up of five saxophones, four trumpets, four trombones, and a rhythm section built out of piano, guitar, drums and bass," Tenney said.
For Tuesday's gig, the two big bands will be mixing up their pace to accommodate the occasion.
Typically, the groups do a style of jazz that is more appropriate for a formal performance.
"It's more intricate and a little bit harder to maybe follow along or sing along with," Tenney said. "But on Tuesday, we are going to be transforming into a dance band using swing and jazz from throughout the ages, but primarily from the golden age of swing. We specifically did this because we know that on the square, we have some really great couples that come out to dance and individuals who come out to have a good time and really move to the music."
To help fill out the sound, a few community members have been recruited to serve as vocalists for some of the songs.
"It's gonna be a good time," Tenney said.
This is Tenney's first year directing YC's jazz bands, but it is his understanding that they have performed for the Summer Concert Series in previous years.
The concert series is nearing the end of its first of three months and has already been attracting huge crowds.
"Typically the average attendance is between I'd say 550 and almost 1,000," said Kathy August, this year's Summer Concert Series coordinator.
For a complete list of upcoming performances, go to http://bit.ly/2rO9UeY.
More like this story