Originally Published: June 22, 2017 8:39 p.m.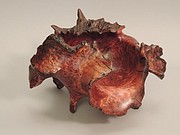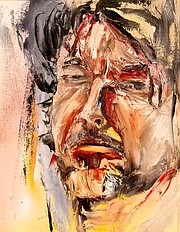 Warm and velvety hand-carved wood pieces, and bold brush-stroked paintings: What do the two art forms have in common?
It was a question that local artists John Hoyt and Thatcher Bohrman pondered recently after an opportunity arose for the two friends to show their work at 'Tis Art Center & Gallery.
What they came up with is "Twisted Roots" – an eclectic showing that combines Hoyt's twisty hand-carved wood burls with Bohrman's vivid family-inspired paintings.
Twisted Roots will be on display at 'Tis through July 14, and the two artists will be on hand for the 4th Friday Art Walk reception from 5 to 8 p.m. June 23.
For Hoyt, the "twisted root" theme is a literal description of his work. He looks for the beauty in burls – the knotty growths on dead trees. Often, he finds his raw materials in the slash piles that are being removed from the forest.
"(The burls) don't look like they're worth anything," Hoyt said. "But there's beauty in there."
He looks for pieces disfigured by decomposition and covered by moss and dirt. "These have a special character, color, and depth," Hoyt says in an explanation of his work, adding "Carving and polishing reveals intricate patterns and unexpected beauty, and an organic natural edge reminds me of the soul of the tree."
Hoyt, who previously worked applying drywall, recuperated from a serious back injury in recent years, and said he identifies with the rehabilitation of the disfigured wood. "The whole healing process ties throughout my art," he said.
For Bohrman, the "roots" theme is more figurative – referring to his family ties, a common subject for his paintings.
One of the pieces on display, for instance, shows his wife Meg Bohrman sleeping, while a blue cat (El Gato Azul) perches on her back. "My wife is a popular subject for me," Bohrman said.
While the idea for the painting came from a photo he had taken of his wife and a family cat (not actually blue), Bohrman sees the painting as more a "dream image" than one that is totally representative of reality.
Bohrman, who has an art degree, has been painting virtually all his life. Still, he had been somewhat dormant in recent years. "In the last three to five years, I rebooted my efforts, and started taking it seriously again," he said.
Along with members of his family, Bohrman also sometimes does self-portraits. "I really like painting from life, and that model is always there," he said of his own face.
'Tis Art Center & Gallery is located at 105 S. Cortez St., Prescott. It is open from noon to 5 p.m. on Sundays; and from 10 a.m. to 5 p.m. Monday, Tuesday, Thursday, Friday, and Saturday (closed Wednesday).