Originally Published: June 22, 2017 9:06 p.m.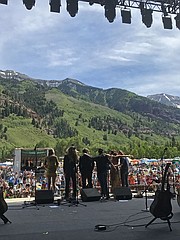 If You Go ...
Dry camping for the Prescott Bluegrass Festival is available on a first-come, first-served basis at the nearby Prescott Mile High Middle School campus. The grounds open at noon Thursday, June 22, and close at noon Monday, June 26.
Schedule of Events
SATURDAY:
9:45 a.m. - Opening Ceremony
10 a.m. - Sugar & The Mint
11 a.m. - Marty Warburton & Home Girls
12 p.m. - Sonoran Dogs
1 p.m. - Old Blue Band
2 p.m. - Heidi Clare & Ron Thomason
3 p.m. - Sonoran Dogs
4 p.m. - Marty Warburton & Home Girls
5 p.m. - Sugar & The Mint
6 p.m. – Dinner Break
7 p.m. - Old Blue Band
8 p.m. - Heidi Clare & Ron Thomason
SUNDAY:
10:45 a.m. - Opening Ceremony
11 a.m. - Marty Warburton & Home Girls
12 p.m. - Old Blue Band
1 p.m. - Heidi Clare & Ron Thomason
2 p.m. - Sonoran Dogs
3 p.m. Raffle Prize Drawing
Free for everybody, lots of jammin' too
The only free Bluegrass Festival of its caliber takes place on the Yavapai County Courthouse Plaza this weekend, June 24 and 25, with Prescott's own award-winning Sugar and the Mint leading off at 10 a.m. Saturday.
This two-day event that hosts incredible bands wasn't always free. From the mid-1980s to the mid-1990s, the Festival took place at Watson Lake with an admission charge. Now the Festival receives support from local businesses, the City of Prescott, Arizona Commission on the Arts, and many Friends of Bluegrass, as well as raffle sales, festival T-shirts and the festival program.
Prescott's own six-member Sugar and the Mint band started as the band, Generation, in early 2011. This group of professional, dynamic young musicians has won progressively prestigious honors in bluegrass festivals all over the Arizona and now Colorado.
This past week, the band, which plays a blend of new old-time, contemporary bluegrass and indie-folk music, including their own compositions, competed and won first place at the highly respected Telluride Bluegrass Festival. Band members include Glory Glidden, 17; Kiva Keith, 16; Keenan Hammack, 17; Matt Tatum, 20; Jason Howard, 17; and Johan "Bix" Glidden, 19.
"We have never played in Telluride, but since winning (the Flagstaff) Pickin' in the Pines in 2016, we wanted to see if we had what it took to get to the main stage at Telluride," said a band spokesperson by email Monday, June 19. "I don't think any of us expected to win. It really was a complete surprise."
Judges scored the bands on 30 percent material selection (taste, difficulty, authenticity/originality), 30 percent instrumental (ability of soloists and overall instrumental blend), 30 percent vocal (lead and harmony), and 10 percent stage presence. Half the songs the band played were original and half were original arrangements of traditional tunes.
Also headlining the Festival are Heidi Clare, known as the best old-time fiddler of her generation. Her duet partner, Ron Thomason, on mandolin, guitar and claw-hammer banjo, has played and recorded with many of the pioneers of bluegrass music including Ralph Stanley's Clinch Mountain Boys.
Marty Warburton and Home Girls started out as a family simply singing together in the living room. Now a favorite of bluegrass festivals all over the West, Marty and Pam Warburton, with daughters Kylee Landon and Hayli Jo Cizmas, and son-in-law John Landon, rely on stellar 2-, 3- and 4-part harmonies backed by one old Martin guitar and one bass.
Old Blue performs bluegrass music "the old-fashioned way," the way Bill Monroe, The Stanley Brothers, Flatt and Scruggs have played. The six-member band is dedicated to the preservation of the music and its character.
The Sonoran Dogs has become a mainstay in the southwest bluegrass scene, sharing a common interest in bluegrass and Americana music. They perform traditional bluegrass standards, new-grass, Americana and original compositions.
https://youtu.be/m6J5TWQxd6M