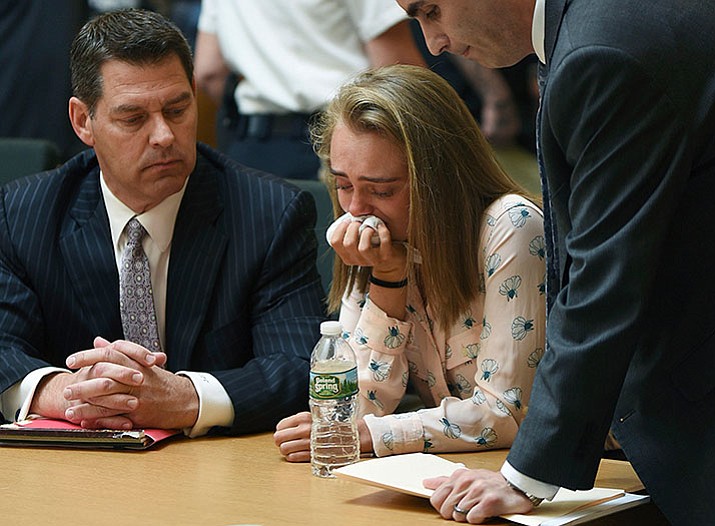 Originally Published: June 17, 2017 6:07 a.m.
See Related Story
"Sticks and stones will break my bones, but names will never hurt me."
Times have changed, especially when one considers the impact social media and smart phones have had on our society.
A Massachusetts woman who sent her boyfriend a barrage of text messages urging him to kill himself when they were both teenagers was convicted Friday of involuntary manslaughter in a trial that raised questions about whether words can kill.
The judge found that Michelle Carter caused the death of Conrad Roy III, who intentionally filled his truck with carbon monoxide in a Fairhaven, Massachusetts, store parking lot in July 2014, according to the Associated Press.
Carter, who faces as long as 20 years in prison, cried and clutched a handkerchief to her face as Juvenile Court Judge Lawrence Moniz detailed her conduct and the circumstances of Roy's death, but she was stoic when the verdict was formally pronounced. The AP reported, as spectators and members of both the Roy and Carter families left the courtroom, she sat at the defense table, sobbing, while her lawyers tried to comfort her.
Some of our thoughts on this have been about free speech and being protected under the First Amendment. However, this shows people can't get away with bullying under protection of free speech. This is an elevated case of bullying that unfortunately led to death.
It has been established that social media sites have engendered a phenomenon in which users become depressed, or worse, when they are not "popular" on the site. It is not a huge leap to consider that what one person tells another electronically could be then taken seriously.
Why would she NOT get into trouble for pushing or suggesting suicide? While we would be surprised if the defense does not appeal the case, it is definitely a precedent-setting ruling that we may see more of in the future.
Words, the judge said, can constitute "wanton and reckless conduct." He added that Carter, then 17, had a duty to call someone for help when she knew Roy was attempting suicide. Yet, she did not call the police or Roy's family.
The court ruling essentially says sticks and stones are not the only things you can be held accountable for, and that we all must consider the potential consequences of our words.
… and our actions – or the lack thereof.
Related Stories
More like this story