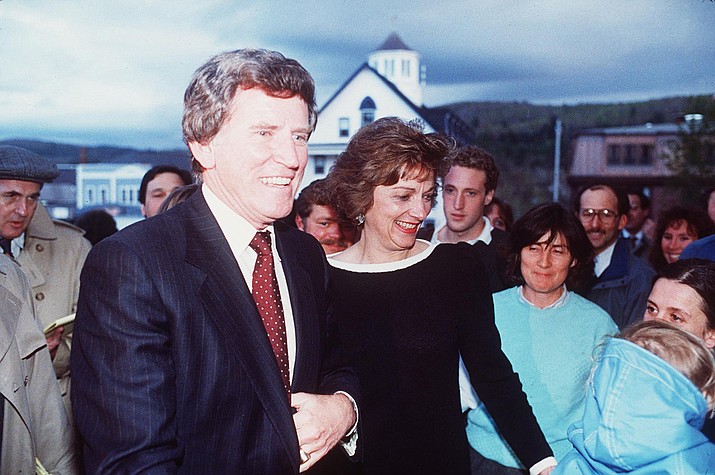 Originally Published: July 29, 2017 6:08 a.m.
A nagging question has been hanging on for some time now: what has happened to our politics?
This took further root this week with word that a local candidate was the target of a smear campaign mailer that brought up ancient-but-false history.
I also took a call Friday from an avid Courier reader who asked the same question and, to me, the answer is simple if you look at the big picture.
It started in my mind's eye with Presidential candidate Gary Hart getting caught with Donna Rice on board the "Monkey Business" yacht. News of an affair derailed his 1988 campaign.
Then there is money — some of which has become known as "Dark Money" — such as in the 2000 race for Arizona Legislative District 1, in which incumbent Barbara Blewster, a Republican from Dewey back then, spent $45,000 prior to the Republican primary and had loaned her campaign $52,000; the position, then and still, pays only $24,000 annually.
Add into the mix when Caleb Soptelean, in the same race, used $40,000 of Clean Elections money to target the other incumbent, Linda Binder, with a negative campaign mailer.
Ironically, neither Blewster nor Soptelean did exceptionally well in the election.
Fast-forward to the 2016 primary when challenger and relative newcomer David Stringer raised $141,422 (of which $133,078 was a personal loan) and spent about $118,000. He beat then-County Supervisor Chip Davis, who spent $96,000 (all donations). As previously reported, this compares with incumbent Noel Campbell, who spent $23,000 of $26,000 raised (Clean Elections), to also advance.
It was the most expensive state race in Arizona that year.
Back to politics and where we're at now, the Hilary Clinton / Donald Trump battle has a lot to do with our current state of affairs. Stir in obstructionist politics in Congress — even over only health care — prior to that.
One can easily see that finger pointing, voting against something just because it is sponsored by the opposition (not because it is a bad bill), and disagreeing with people just because their opinion is different than ours (you're either with me or against me), and the picture starts to come into focus.
I could add in many more examples, ranging from Phoenix-area politics (now-former Senate President Andy Biggs and former GoDaddy exec Christine Jones), our state's infamous gubernatorial races, redistricting fights, and carpetbaggers; however, you get the idea.
The money is a big deal — it cheapens the process and
keeps the Average Joe or Mary from running. Digging up someone's past debts and/or health history is unconscionable. Ethics (and common sense, as I have stated in previous columns) have evaporated.
But why? It is a sad indictment of us as a society and how we as humans treat each other. It is the win-at-all-costs mentality, and the "Not my President" horse-droppings.
If our leaders are not yours because your candidate lost, how do we move forward? We don't.
What are you going to do, sue them? That's a solution for another column — a system that has yet to be reformed properly.
In the end, I respect the people who have the guts to toss their hats in the political arena. Unfortunately, we've lost the true meaning of public service and giving back to our community.
Politics have become a system about "me," not for the constituents.
Reform of that is even more elusive than passing a health care bill.
Related Stories