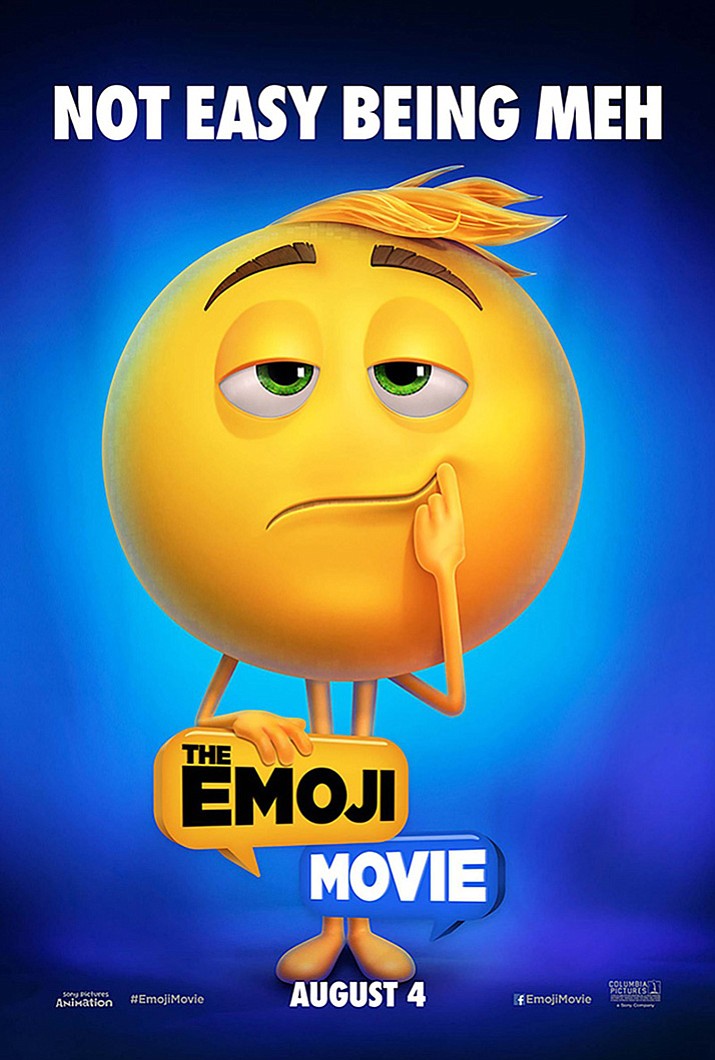 Originally Published: July 27, 2017 9:55 p.m.
Movies playing at Harkins Theatres, 7202 Pav Way, Prescott Valley (Highway 69 between Glassford Hill and Lake Valley roads). 928-775-7444; www.harkins.com.
(NEW) THE EMOJI MOVIE – Hidden inside a smartphone, the bustling city of Textopolis is home to all emojis. Each emoji has only one facial expression, except for Gene (T.J. Miller), an exuberant emoji with multiple expressions. Determined to become "normal" like the other emojis, Gene enlists the help of his best friend Hi-5 (James Corden) and a notorious code breaker called Jailbreak. During their travels through the other apps, the three emojis discover a great danger that could threaten their phone's very existence. Directed by Tony Leondis, also starring the voices of Steven Wright, Patrick Stewart and Christina Aguilera. Rated PG, science fiction film/adventure.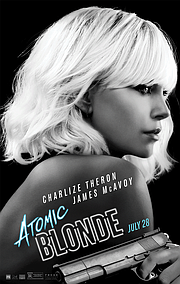 (NEW) ATOMIC BLONDE – Agent Lorraine Broughton (Charlize Theron) is equal parts spycraft, sensuality and savagery, willing to deploy any of her skills to stay alive on an impossible mission. Sent alone into Berlin to retrieve a priceless dossier from within the destabilized city, she partners with embedded station chief David Percival (James McAvoy) to navigate her way through a deadly game of spies. Directed by David Leitch, also starring Sofia Boutella, John Goodman and Roland Moller. Rated R, mystery/thriller.
(NEW) ICE AGE: COLLISION COURSE – Manny the mammoth starts to worry when his daughter Peaches announces her engagement. Still unlucky in love, Sid the sloth volunteers to plan the couple's wedding. To Manny's dismay, nothing can stop the upcoming nuptials, except maybe the end of the world. When Scrat accidentally launches himself into outer space, he sets off a chain reaction that sends an asteroid hurtling toward Earth. Now, the entire herd must leave home to explore new lands and save itself from Scrat's cosmic blunder. Rated PG, science fiction film/action.
Also showing:
BABY DRIVER – A talented, young getaway driver (Ansel Elgort) relies on the beat of his personal soundtrack to be the best in the game. But after being coerced into working for a crime boss (Kevin Spacey), he must face the music when a doomed heist threatens his life, love and freedom. Rated R for violence and language throughout. Action & Adventure, Comedy, Drama
THE BIG SICK – Based on the real-life courtship between Kumail Nanjiani and Emily V. Gordon, THE BIG SICK tells the story of Pakistan-born aspiring comedian Kumail (Nanjiani), who connects with grad student Emily (Kazan) after one of his standup sets. However, what they thought would be just a one-night stand blossoms into the real thing, which complicates the life that is expected of Kumail by his traditional Muslim parents. When Emily is beset with a mystery illness, it forces Kumail to navigate the medical crisis with her parents, Beth and Terry (Holly Hunter and Ray Romano) who he's never met, while dealing with the emotional tug-of-war between his family and his heart. "The Big Sick" is directed by Michael Showalter ("Hello My Name Is Doris") and producer by Judd Apatow ("Trainwreck," "This Is 40") and Barry Mendel ("Trainwreck," "The Royal Tenenbaums"). Rated R for language including some sexual references. Comedy, Romance
DESPICABLE ME 3 – Illumination continues the adventures of Gru, Lucy, their adorable daughters Margo, Edith and Agnes and the Minions in "Despicable Me 3." Directed by Pierre Coffin and Kyle Balda, co-directed by Eric Guillon and written by Cinco Paul & Ken Daurio, the animated film features the voices of Steve Carell and Kristen Wiig, as well as Tony and Grammy Award winner Trey Parker, the co-creator of "South Park" and the Broadway smash "The Book of Mormon." Parker voices the role of villain Balthazar Bratt, a former child star who's grown up to become obsessed with the character he played in the '80s, and proves to be Gru's most formidable nemesis to date. Rated PG for action and rude humor. Animation, Comedy, Kids & Family
DUNKIRK – Acclaimed auteur Christopher Nolan directs this World War II thriller about the evacuation of Allied troops from the French city of Dunkirk before Nazi forces can take hold. Tom Hardy, Kenneth Branagh and Mark Rylance co-star, with longtime Nolan collaborator Hans Zimmer providing the score. Rated PG-13 for intense war experience and some language. Action & Adventure, Drama
GIRLS TRIP – When four lifelong friends -- Regina Hall, Queen Latifah, Jada Pinkett Smith and Tiffany Haddish -- travel to New Orleans for the annual Essence Festival, sisterhoods are rekindled, wild sides are rediscovered, and there's enough dancing, drinking, brawling and romancing to make the Big Easy blush. James Lopez, head of motion pictures for Will Packer Productions, and Preston Holmes, executive produce. Rated R for crude and sexual content throughout, pervasive language, brief graphic nudity, and drug material. Comedy, Drama
MAUDIE – "Maudie," based on a true story, is an unlikely romance in which the reclusive Everett Lewis (Ethan Hawke) hires a fragile yet determined woman named Maudie (Sally Hawkins) to be his housekeeper. Maudie, bright-eyed but hunched with crippled hands, yearns to be independent, to live away from her protective family and she also yearns, passionately, to create art. Unexpectedly, Everett finds himself falling in love. "Maudie" charts Everett's efforts to protect himself from being hurt, Maudie's deep and abiding love for this difficult man and her surprising rise to fame as a folk painter. Rated PG-13 for some thematic content and brief sexuality. Art House & International, Drama, Romance
SPIDER-MAN: HOMECOMING – A young Peter Parker/Spider-Man (Tom Holland), who made his sensational debut in Captain America: Civil War, begins to navigate his newfound identity as the web-slinging super hero in Spider-Man: Homecoming. Thrilled by his experience with the Avengers, Peter returns home, where he lives with his Aunt May (Marisa Tomei), under the watchful eye of his new mentor Tony Stark (Robert Downey, Jr.). Peter tries to fall back into his normal daily routine -- distracted by thoughts of proving himself to be more than just your friendly neighborhood Spider-Man -- but when the Vulture (Michael Keaton) emerges as a new villain, everything that Peter holds most important will be threatened. Rated: PG-13 for sci-fi action violence, some language and brief suggestive comments. Action & Adventure, Drama, Science Fiction & Fantasy
VALERIAN AND THE CITY OF A THOUSAND PLANETS – This visually spectacular new adventure film based on the groundbreaking comic book series that inspired a generation of artists, writers and filmmakers is from Luc Besson, the legendary director of "The Professional," "The Fifth Element" and "Lucy." In the 28th century, Valerian (Dane DeHaan) and Laureline (Cara Delevingne) are a team of special operatives charged with maintaining order throughout the human territories. Under assignment from the Minister of Defense, the two embark on a mission to the astonishing city of Alpha -- an ever-expanding metropolis where species from all over the universe have converged over centuries to share knowledge, intelligence and cultures with each other. There is a mystery at the center of Alpha, a dark force that threatens the peaceful existence of the City of a Thousand Planets, and Valerian and Laureline must race to identify the marauding menace and safeguard not just Alpha, but the future of the universe. Rated PG-13 for sci-fi violence and action, suggestive material and brief language. Action & Adventure, Drama, Science Fiction & Fantasy
WAR FOR THE PLANET OF THE APES – In War for the Planet of the Apes, the third chapter of the critically acclaimed blockbuster franchise, Caesar and his apes are forced into a deadly conflict with an army of humans led by a ruthless Colonel. After the apes suffer unimaginable losses, Caesar wrestles with his darker instincts and begins his own mythic quest to avenge his kind. As the journey finally brings them face to face, Caesar and the Colonel are pitted against each other in an epic battle that will determine the fate of both their species and the future of the planet. Rated PG-13 for sequences of sci-fi violence and action, thematic elements, and some disturbing images. Action & Adventure, Drama
WONDER WOMAN – An Amazon princess (Gal Gadot) finds her idyllic life on an island occupied only by female warriors interrupted when a pilot (Chris Pine) crash-lands nearby. After rescuing him, she learns that World War I is engulfing the planet, and vows to use her superpowers to restore peace. Directed by Patty Jenkins (Monster). Rated PG-13 for sequences of violence and action, and some suggestive content. Action & Adventure, Drama, Science Fiction & Fantasy