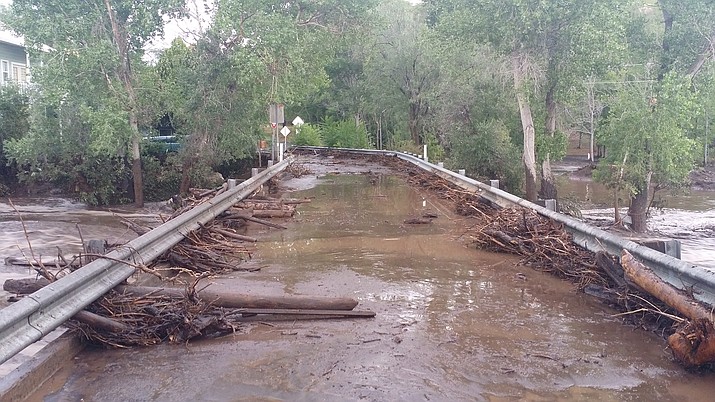 Originally Published: July 25, 2017 6:01 a.m.
Flooding from this year's monsoon season has affected a number of people in the areas impacted by the Goodwin Fire, including Eugene Stiles who said the water came underneath his house.
"I had eight inches of water under my house," Stiles said, also noting he spent six hours with a backhoe getting his driveway back in proper shape only for floodwater to return. "It's frustrating. I won't do anything until monsoon season is over."
County Supervisor Tom Thurman said at a public meeting in Mayer on Friday, July 21 that those living in flood prone areas need to keep their eyes on the sky as there's a good chance flooding could reoccur for at least two more months and possibly even going into October. His word of warning proved true on Sunday, July 23 with more flooding in Mayer and Spring Valley causing the American Red Cross Northern Arizona Chapter to re-open the shelter at Mayer High School, 17300 E. Mule Deer Drive to support those affected by evacuation orders.
With the fire, the inevitability of having floods is like clockwork, said Yavapai County Flood Control District Director Dan Cherry. As such, three gauges in the burned areas were installed so the weather service can monitor them and issue warnings for flash flood advisory, Cherry said, commenting that if there's a certain amount of rainfall in a certain amount of time, notifications go out to first responders and county officers so the situation can be monitored. Further, the county is working with the forest service, he said.
"They are looking at doing about 2,000 acres of aerial seeding and mulching within the most high intensity burned areas within the forest service lands," Cherry said. "There's a good strip of (Bureau of Land Management) and state owned land that is kind of between Big Bug and the forest service and the flood control district is working with … a federal agency to try and get a grant that will seed a portion of that area as well. we'd like to get something down that will help keep what soils remain from leaving and washing down into Mayer and Spring Valley."
Even when the forest service drops those seeds it will take time to germinate, Thurman said. It's not an easy situation and the next couple years won't be easy either, he said.
While the county is not able to remove every single tree trunk and bit of debris, if there are options for homeowners to do so, it's encouraged, Cherry said. Doing so is a bit of a mess though and a pickup truck sinking into its axels is a possibility, he said.
"It's better to be safe rather than risk life or property to get out there and remove some debris that's been deposited," Cherry said. "If it's possible to do so, I certainly encourage it."
At the same time, it isn't too late to buy flood insurance, he said. Though there's already been damage and people have already been flooded, but there can always be more rain, Cherry said.
Residents also need to be aware of mosquito season, said Yavapai County Community Health Services Public Health Protection Section Manager Cecil Newell. Dump containers full of water as much as possible, Newell said, stating the county is looking at West Nile Virus mosquitos having a presence in Mayer. People can protect themselves by wearing long sleeves, long pants and using Deet, he said.
Don't cross water, said Yavapai County Sheriff's Office Lt. Dan Raiss. Law enforcement officers are not trained to cross water above ankle depth, Raiss said. At that point, you can't see where you're stepping or what's coming, he said.
"If you can't get across the bridge, stay up here in the high side," Raiss said. "If you get stuck in your house, which we did have people, stay in your house."
The county has www.ycflood.com on which it has its primary gauging network and people can watch real time and see rainfall totals as they're coming in and both Yavapai County Emergency Management and Flood Control District have active Facebook pages to share information, Cherry said, also bringing attention to free sandbags available at fire department.
More like this story