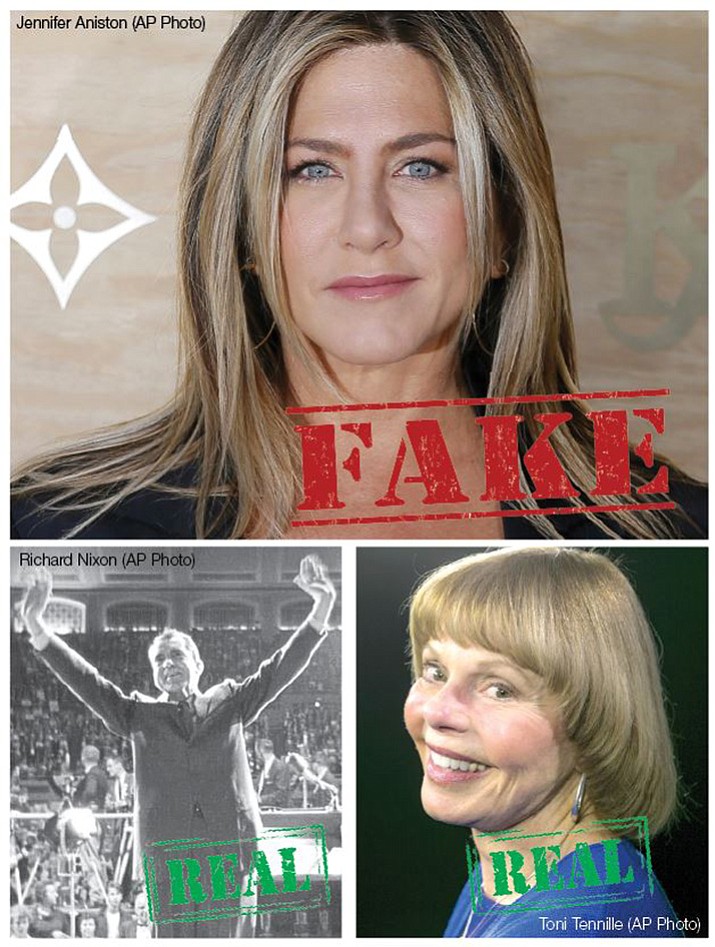 Originally Published: July 21, 2017 6:02 a.m.
Did you know actress Jennifer Aniston, Justin Timberlake, and Denzel Washington have all considered moving to Prescott?
Really? Or maybe it's just fake news.
It's no secret that Prescott has attracted some well-known names. Richard Nixon in his teen years, for instance, spent summers here with his mother and younger brothers. Toni Tennille lived out Williamson Valley Road for eight years, and according to her Facebook page, she's moving back the end of this month.
Over the years, stories spread about Jerry Van Dyke (Dick Van Dyke's brother) and Janis Joplin's father, but the Courier was unable to confirm these. In the 1970s, rumor had it that Cher was buying property out Green Lane somewhere.
The "news story" about Jennifer Aniston is false, states the That's Nonsense website.
Aniston supposedly has plans to move to Prescott, Ogdensburg, New York, and Brampton, Ontario. All versions of the online story start off something like this: "During a radio interview this morning, Hollywood actress Jennifer Aniston took a moment to praise (Prescott, Arizona) residents who had helped her with a mechanical issue with her rental car as she passed through the city recently."
Her car allegedly overheated "or something," and while on the side of the road, passersby invited her to lunch. They didn't recognize her.
She says, "I'm telling you, these people in Prescott are the real deal. I'm going to move there after I retire."
"A series of hoaxes have hit the Internet purporting that a particular celebrity 'had something to say' about a particular town. The name of the celebrity and town vary depending on what variant you see," the That's Nonsense website stated Jan. 5, 2017. "This isn't the first time this type of hoax has spread. In 2016, very similar hoaxes spread across social media using different celebrities and town names in an article very similar to this latest brand of hoaxes."
Two online sources that placed Aniston in Prescott, KCTO9.com and Local31news.com, have these disclaimers: "None of the articles on kcto9.com should be considered true and are simply works of satire or fantasy meant for entertainment purposes" and "Local31news.com is an entertainment website composed mostly of articles containing satire. None of the articles on local31news.com should be considered true and are simply works of satire meant for entertainment purposes."
Local author and historian Parker Anderson wants people to check the sources of these "stories" before they freak out and share them.
He posted on his Facebook page July 18: "The phenomena of 'fake news' is really out of control. In the last 48 hours alone, I have found links on my Facebook feed to stories that say Hobby Lobby is closing all of its stores due to persecution from Obama (never mind that he is no longer president), and that Charles Manson is being released from prison, and that Pope Francis has said that believing in Jesus is dangerous and misguided! Good grief!"
Anderson said the purveyors of such stories post them to make readers angry. He strongly advises people to think before reposting or sharing.
That said, also found recently on Facebook, The Real Toni Tennille, is her statement that she has purchased a home and will return to Prescott in late July from Florida where she has resided for the past two-and-a-half years. She said at that time Prescott was not the best place to live while traveling to promote her book, "Toni Tennille, a Memoir."
She has a sister in Florida and another in Prescott where she previously lived in the Mint Creek subdivision for about eight years. Now 77, she plans to live closer to town, and said she will be singing in the tenor section of the Yavapai College Master Chorale. Her Facebook post received more than 250 comments.
Richard Nixon was here in the late 1920s and 1930s. On a doctor's advice, his mother, Hannah, moved from Whittier, California, to Prescott in hopes the change in climate would help his brother, Harold, recover from tuberculosis.
Actor Tex Ritter, his wife, Dorothy Fay, and son, John Ritter, had ties to Prescott. Fay was born in Prescott and is buried in Mountain View Cemetery.