Originally Published: July 17, 2017 6:02 a.m.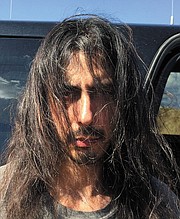 KINGMAN – The Mohave County Environmental Rural Area Cleanup Enforcement team caught a Kingman man illegally dumping miscellaneous household waste in the Kingman desert Wednesday.
According to ERACE spokesman Capt. Todd Davison, Christopher McKinney, 35, was arrested and booked on two warrants. He was also charged with criminal littering for commercial purposes and two counts of possession of drug paraphernalia, all class 6 felonies.
ERACE detectives received a phone call from a witness about a man dumping trash in the desert off Airway Avenue approximately one mile east of Prospector Street. An investigation led to an area where they watched McKinney allegedly unload trash debris from a truck bed while parked in a gully.
Detectives contacted McKinney, who reportedly admitted to dumping the trash for an unspecified amount of money he was to receive upon completion of the job. He was arrested for two outstanding warrants out of the Mohave County Sheriff's Office and the Arizona Department of Public Safety.
ERACE detectives reportedly found drug paraphernalia items on McKinney.
A Mohave County Sheriff's deputy transported and booked him into the Mohave County jail. The detectives placed the trash back into the McKinney's vehicle and it was towed without incident. A copy of the report was forwarded to the Mohave County Attorney's office with a class 6 felony charge of illegal dumping and two class 6 felony charges of possession of drug paraphernalia.
In addition to working police investigations and presenting prevention programs, Mohave County ERACE sponsors free community cleanup trash collection events in several locations around the county to help reduce illegal dumping.
Call ERACE directly at 928-715-0480 if you have information on an illegal dumpsite or call Mohave Silent Witness at 1-888-227-8780 if you observe an illegal dumping in progress.