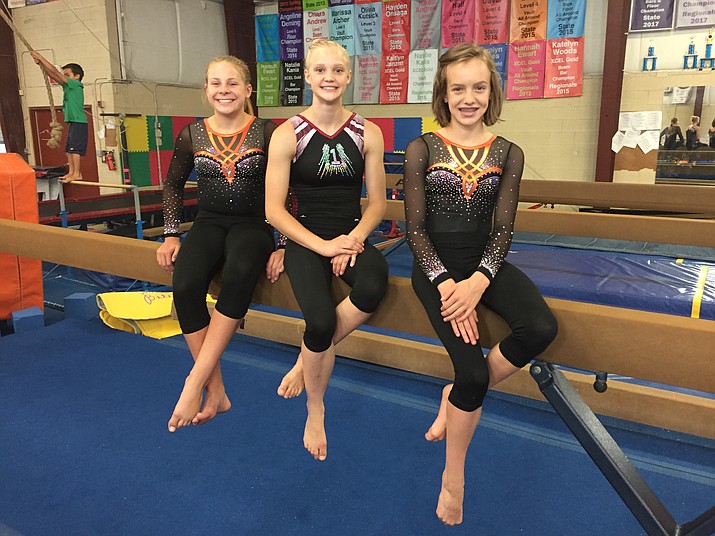 Originally Published: July 17, 2017 11:15 p.m.
Anna Bramblett remembers what it was like to be 7. "I was hyper,'' Bramblett said. "I was like all over the place."
Shortly after turning 7, Bramblett found a way to channel her excess energy. She was introduced to the sport of gymnastics, and over the last eight years has developed into one of the best teenage gymnasts in the country at her level.
"My grandpa said this (gymnastics) is something I needed to do,'' Bramblett said of her introduction to the sport. "So my mom signed me up and my grandpa paid, and I've been doing it ever since.''
Bramblett, 15, trains with Arizona Dreams Gymnastics in Prescott Valley. She recently won the balance beam and was second in the all-around in Level 9 at the regional championships in Visalia, California, and went on to finish first in the uneven parallel bars and all-around at the Level 9 USA Gymnastics Western Championships in Boise, Idaho.
Summer Andrew, who owns Arizona Dreams Gymnastics and coaches Bramblett, is impressed by her champion's work ethic.
"She (Bramblett) is one of the hardest workers I've ever coached,'' Andrew said. "Every day, she expects improvement from herself. You give her something new to do or work on, she just eats it up. As a coach, my biggest challenge is to help her not be so hard on herself. She has the drive and the ambition, and when you combine that with talent, you get a champion."
The uneven parallel bars is Bramblett's favorite event.
"I like letting go of the one bar and catching the other,'' Bramblett said. "It's like you're flying through the air. Gymnastics gives you a chance to really push yourself. You get to do things you're not ordinarily able to do in normal life."
Entering her sophomore year at the Arizona Agribusiness & Equine Center (AAEC) charter school in Prescott Valley, Bramblett hopes to someday be a veterinary technician for exotic animals. She's also interested in work related to a zoological field. Before that, though, there's the matter of college, and gymnastics could play a big role.
"I really want to get a college scholarship,'' she said. "I'm not sure where yet, but that's my dream."
Bramblett isn't the only Arizona Dreams gymnast to compete at the regional level. Adalyn Andrew finished first on the uneven parallel bars in the Level 8 regionals, and Katie Janzen took first in the regionals in the Level 7 vaulting. There are approximately 350 athletes who train with Arizona Dreams.
"Part of our goal is to put Northern Arizona gymnastics on the map,'' said Summer Andrew, who has been coaching for 18 years. "We are definitely getting close to doing that."
Kevin Hutson is a stringer for The Daily Courier. Follow him on twitter at @KevinHutson, or reach him by email at sportsdesk@prescottaz.com.