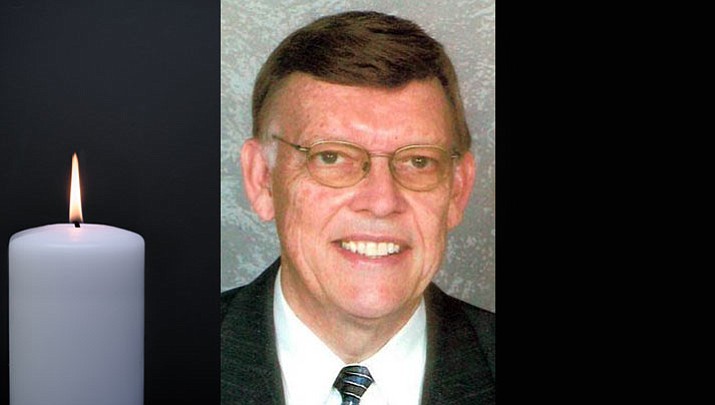 Originally Published: July 16, 2017 6:02 a.m.
Dr. Vern L. McNally went to be with the Lord on June 28, 2017, following a lengthy illness. He was born on May 15, 1939, in Midland, South Dakota, to Fred and Alma (Phillips) McNally. He spent most of his childhood in Rapid City, South Dakota, and graduated from Rapid City High School. He furthered his education at Central Bible Institute in Springfield, Missouri, receiving a B.A. in 1961; California Graduate School of Theology for his M.A. in 1982; then also his Ph.D in 1986.

He and his wife, Shirley, of 16 years, moved to Prescott in 2011, where he officed and continued his Christian marriage and family counseling practice. He was ordained as a pastor by the Assemblies of God in South Dakota in 1962, and then by the United Evangelical Churches in 1989. He pastored in Scottsdale, Arizona, Little Rock, Arkansas, Seattle, Washington, Tulsa, Oklahoma, Chicago, Illinois, Las Cruces, New Mexico, Haysville, Kansas, and was a missionary to the Sioux Indians in Sisseton, South Dakota.
He was on the Board of Directors for AZ Teen Challenge, Inc. from 1995-200l; Board of Advisors for Brother to Brother Int'l from 1988-2002; Board of Directors for City Harvest Ministries from 1992-1995; Arizona Director for Berean College of the Assemblies of God, 1983-1986; Phoenix Extension Director for California Graduate School of Theology; Training Instructor for Trinity Broadcasting Network; Organizer and Host for the Arkansas Prayer Breakfast to honor the returning American hostages from Iran; helped organize a "baby lift" from Cambodia to save endangered babies; National Bible Quizmaster for Assemblies of God youth for five years; Red Cross chapter chairman for two years; Chairman of Task Force for Relocation of Viet Nam war refugees in northeastern Oklahoma; former president, board member and chairman of committees during a 15 year membership in Kiwanis; and former franchise owner of Curves for Women in Wickenburg, Arizona ... a life well lived.
He is survived by his wife, Shirley; a daughter, PJ (John) Madsen of Phoenix; two stepdaughters, Susan Grimes of Prescott, and Donna Grimes of Allen, Texas; daughter-in-law, Sandra McNally of Chandler, Arizona; three grandsons, four granddaughters, three great grandchildren; his sister, Carol McNally Hubbeling (Andy); and several nieces and nephews. He was preceded in death by his first wife, Dorothy (Dottie); his sons, Randy and Jim; and his parents, Fred and Alma McNally.
A celebration of Vern's life is planned for Saturday, July 22 at 2 p.m., at Prescott Life Church. He was dearly loved and will be greatly missed. Arrangements entrusted to Hampton Funeral Home.
Information provided by survivors.