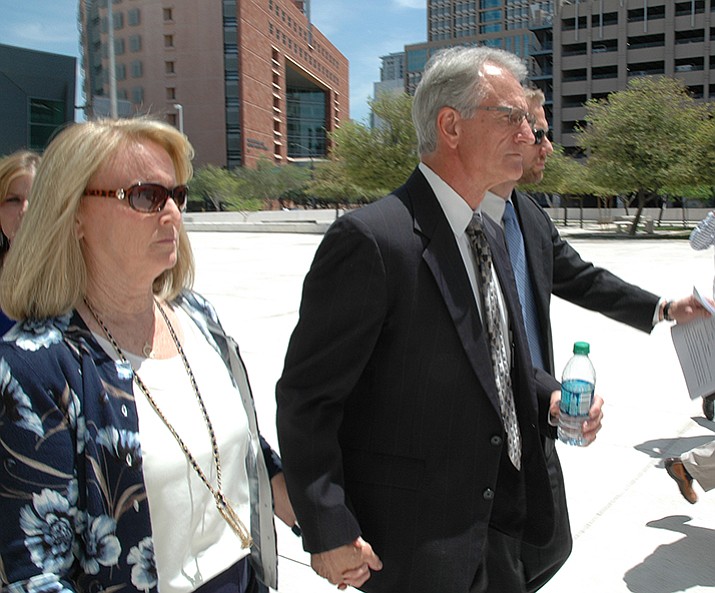 Originally Published: July 15, 2017 6:04 a.m.
PHOENIX — Federal prosecutors are offering to tell defendants in the Corporation Commission bribery case who and what else they're investigating — but only if they agree not to share that information with anyone else.
The proposal, made in a new court filing, comes as attorneys for former utility regulator Gary Pierce, his wife, a lobbyist, and a waster company executive seek details of the FBI inquiry that led to their indictment in May on multiple federal charges. The lawyers say they need that information to prepare their defense for the Oct. 3 trial.
In that filing, the prosecutors essentially admit they pretty much tripped across the facts that led to the bribery charges against the four "during a much larger and more intensive investigation." They provided no specifics.
But in communications with defense attorneys, Assistant U.S. Attorney Frederick Battista, who is leading the legal team, said he does not want to tip off those other targets — targets that could include not only other current or former members of the Arizona Corporation Commission but potentially executives at Arizona Public Service Co.
In the latest court filing, Battista conceded the government has to disclose information needed by the defense lawyers. And he said they can have pretty much what they want if they keep anything not related directly to this case confidential.
"We do not seek a blanket gag order," he told U.S. District Court Judge John Tuchi in the pleadings. "And a defense claim that we do is incorrect."
But Battista said the demand for confidentiality of what his office discloses not only protects the other — and larger — ongoing investigation but ensures that others with information about that case do not refuse to come forward because their names will "end up splashed across headlines."
That excuse holds no water for Ashley Adams who represents Sherry Pierce, saying prosecutors haven't told her what else they're investigating that they want to keep secret.
"I think we can all take a pretty good educated guess what it relates to," she said.
Adams is not guessing, at least not publicly.
But the federal probe appears to be an outgrowth of an investigation originally started at the state attorney general's office. That included allegations that executives of APS had met secretly with regulators while the utility was in the middle of a rate case before the commission.
And Gary Pierce confirmed to Capitol Media Services after being interviewed last year that FBI agents questioned him about the 2014 election, a race in which his son, Justin, was running for secretary of state. There also have been questions about whether Bob Stump, then chairman of the commission and not up for re-election, was coordinating spending by outside groups, including APS, on behalf of commission candidates Doug Little and Tom Forese.
APS acknowledged that at least one of its officials also had been interviewed by the FBI.
But whatever else prosecutors are pursuing, Adams said she and the other defense lawyers should not be hampered in what they can do with the evidence disclosed to them because of that other not-yet-completed probe.
"The government decided to indict our clients at this time," she said. "If there is another investigation that is related to this, I think they maybe should have thought about that before they indicted."
According to the indictment, George H. Johnson who runs a water and sewer company that bears his name funneled money to Pierce who at the time was commission chairman in exchange for favorable votes on two issues.
One involves a 2011 vote to increase the value of the company, a move that allowed it to collect more money from customers. The other is a change in policy crafted by Pierce allowing the owners of small companies like Johnson Utilities to recover some of their personal income taxes through higher rates.
The bribe, according to the indictment, was $31,500 provided by Johnson through lobbyist Jim Norton to Sherry Pierce for what prosecutors say was minimal work, money that wound up in the couple's joint bank account.
All four have denied guilt.
Now their attorneys want the government turn over what it has, saying without it they are "unable to investigate or develop their defense without the discovery." And they are balking at prosecutors' demands for what they call "an overbroad and unsubstantiated protective order."
For example, Adams said prosecutors don't want defense lawyers to share FBI 302 reports, which are summaries of interviews with witnesses.
"Let's say we want to go out and interview that witness," Adams said. She said the government restrictions would prohibit her from showing the witness what the FBI claims is their statement.
Anyway, she said, prosecutors have provided no specifics on what information they're trying to protect — or why.
"We don't know anything about this other investigation and they haven't articulated in this case what is going to hamper their investigation in the other case," Adams said.
But Battista, in his own legal filings, said such limits are appropriate when there is "good cause." He says he has that — and not just that "unwarranted and unnecessary dissemination of discovery materials will likely jeopardize the ongoing, larger investigation."
Specifically, he worries about happens if all that information becomes public.
Battista told Tuchi that some damage already has been done with defense lawyers engaging in a "poorly conceived public airing" of an email he sent them about the negotiations for disclosure. That "airing" occurred by defense attorneys quoting from it in a court filing.
"Uncharged and presumptively innocent individuals already individuals already have been, and will be, subjected to widespread public speculation," he wrote.