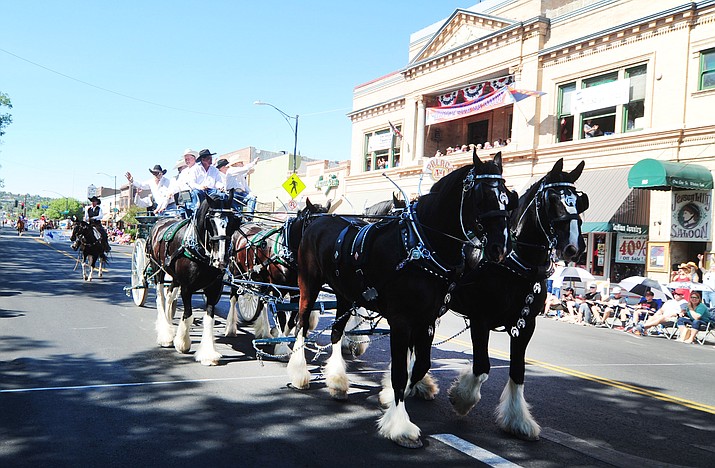 Photo by Les Stukenberg.

Originally Published: July 2, 2017 6:03 a.m.
The Prescott Frontier Days Parade was nearly canceled this year due to the Goodwin Fire.
As the fire raged on throughout the week, parade organizers received more than 100 phone calls from people asking if the highly anticipated event was still going to happen, said Parade Chairman Debbie Tuttle.
Photo Gallery
2017 Prescott Frontier Days Parade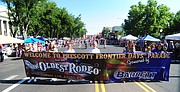 Photo Gallery
2017 Whiskey Row Boot Race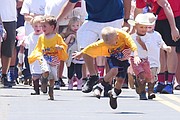 Parade winners
Category / Winning group
Featured Rider/Mounted / Matt's Saloon
Commercial Motor/Float/Political / APS Honors Our Living Legends
Commercial Horse Drawn/ Political / Prescott Frontier Days Rodeo Directors, Diamond Z Shire Hitch
Vintage Vehicles / Prescott Antique Auto Club
Non-Commercial Motor/Float / US Forest Service, Prescott National Forest
Non-Commercial Horse Drawn / Prescott Frontier Days Rodeo Parade Honorary Pioneer Family – The Olsen Family Legacy
Royalty/ Best Costume / 2018 Prescott Frontier Days Royalty Contestants
Fraternal/ Church/Non-Profit / Kiwanis Club of Prescott, Arizona Kiddie Parade
Traveling Music/Band / USCG Auxiliary Arizona Band
Walking Group / US Submarine Veterans/Gudgeon Base/Perch Base
Judges' Trophy – Judges' Favorite / Shriners of Phoenix
Chairman – Best All-Around Entry / Back Country Horsemen of Central Arizona
The judges would also like to acknowledge ZebraScapes Landscaping & Services with an Honorable Mention for a great parade entry.
"Let's just be honest, if it came up to the hills of Prescott, we could have had a problem," Tuttle said.
Despite the concern, Tuttle chose not to formally announce at any point in the week leading up that the parade could be canceled.
"It's not something we wanted because the economic impact of absolutely everybody here is huge for the rodeo and the parade, but we would have taken that into consideration if we needed to," she said.
An announcement wasn't needed, however, to keep a few groups from opting out anyway.
"We had about 10 people cancel just because of the fire, so that's put a little bit of a dent in it — they were some of the larger horse groups," Tuttle said.
In the end, 149 parade entries still stepped off. Last year there were 158.
Theme and Grand Marshall
The theme this year was "Legends among us," which entries were asked to internalize. Many entries took this as an opportunity to memorialize those who helped start their business or organization.
The Yavapai County Fair, for instance, hauled a trailer that had the names of all of its presidents since 1913 printed on signs sticking out of hay.

This year's Grand Marshall was Monty Hensen, a rodeo legend who recalls competing in Prescott in the 1970s and '80s.
The first time he rode into town was 1973 when he was about 18. It was also the first time he got kicked out of a bar. He had heard a famous poem called "The Sierry Petes (or Tying Knots In the Devil's Tale)" that told of two men visiting Whiskey Row in Prescott and getting properly drunk before having an encounter with the devil.
"That's when I first heard about Prescott, so when I came up here, of course I went into all of the bars," Hensen said. "They grabbed me by the seat of the pants and the collar and I just held onto my hat as they threw me out of Matt's Saloon."
Hensen's last time competing in the Prescott Rodeo was 1986. A few years later, his rodeo career was ended when he broke his neck.
Attendees
Gibby Lara has attended the Prescott Frontier Days Rodeo Parade every year with his family for the last 65 years.
This year was no exception, but several family members almost didn't attend because of the Goodwin Fire. "We almost canceled the whole thing," said John Mendoza, a relative of Lara's visiting from California. "A lot of us have asthma, so we were worried about the smoke."
It was only on Thursday when fire officials said they got a handle on the fire, that the family felt comfortable enough to make the trip.
Soon after Mendoza arrived to Prescott, Lara had a mission for him. To ensure they got the best seats in the house, Lara had Mendoza post up at Lara's preferred spot on the northeast corner of Cortez and Gurley streets starting at 11 p.m. Friday, June 30. Mendoza set up about 30 chairs for friends and family and stayed seated there all night.
"We're in the perfect position," Lara said. "We have a three-story building that blocks out the sun the whole time the parade is going."

Overall, the fire did not appear to hamper the attendance at all. Thousands still lined the streets and the crowd was as lively as ever.
"This is like Arizona's Rose Bowl," Mendoza said about how popular the parade is every year.