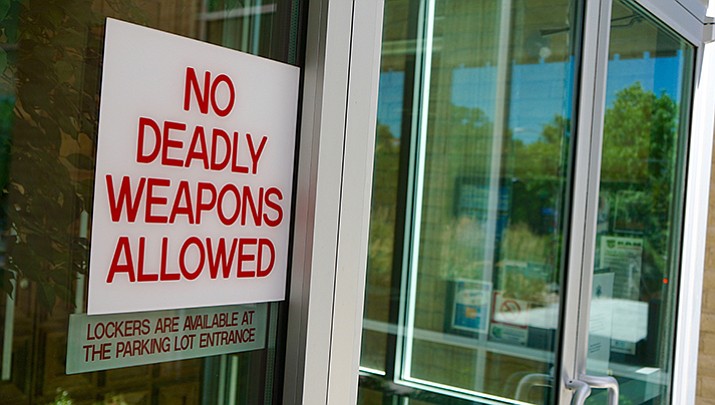 Photo by Cindy Barks.
Originally Published: July 2, 2017 6:03 a.m.
For years, an armed police officer has overseen Prescott City Council meetings, guarding the dais throughout the meetings.
But at least two council members are now questioning whether that is enough protection.
In a study session discussion this past week, City Councilman Greg Lazzell and Mayor Pro Tem Jim Lamerson questioned staff about the city's policy that requires them to leave their deadly weapons in a locker that is located at the entrance to city hall.
"I am a certified concealed carry (holder), and then I come in here, and I have to put my weapon in that box out there," Lazzell said. "I, for one, think I should have the right to defend myself."
Lamerson added that anyone with a weapon could walk into a council meeting. "The bad guys don't have any rules," he said, adding, "What I'm being told is that I don't have the ability to protect myself."
City Attorney Jon Paladini said the council policy, which prohibits deadly weapons in city buildings and provides a locker for the public to store firearms, follows state law. He added that the question for council members is whether to change that policy to allow the public to bring weapons into city buildings.
If the council were to go that route, Paladini suggested it should be done on a facility-by-facility basis. He noted, for instance, that the police department likely would not want people entering the police station carrying deadly weapons.
Councilman Steve Sischka debated the premise that the existing policy leaves the council without protection, however. "Why do we have this guy back here?" he asked, pointing to police officer Larry Gray, who regularly guards the council meetings.
"He's armed," Sischka noted, asking, "How many people do you want in the circle shoot?"
But Lamerson and Lazzell pointed out that an audience member holding a protest sign was able to get behind the council at a meeting several years ago, when the police officer on duty was distracted by another protester.
Along with Sischka, other council members also voiced concerns about changing the city policy.
Councilwoman Billie Orr questioned why the council was considering the matter at all. "There are so many big issues we're dealing with today, and we've just spent a half-hour on this," she said.
And Councilwoman Jean Wilcox maintained that the issue is a part of a "much bigger problem" – one involving too little gun control. She added, "There's a risk everywhere around us. Allowing people to bring guns into city hall isn't going to change that."
Paddie Braden, a frequent attendee at City Council meetings, said later that she would have concerns about allowing the public to carry deadly weapons into meetings. A possible solution, she said, would be for the city to implement a more formal process to prevent people from bringing weapons into meetings (for example: a metal detector).
A question arose on whether the city could allow the council to carry weapons without allowing members of the public to take guns into city buildings, and Paladini said he would look into the matter.
Mayor Harry Oberg suggested that the city conduct a risk assessment on the issue, and report back to the council at a future meeting.