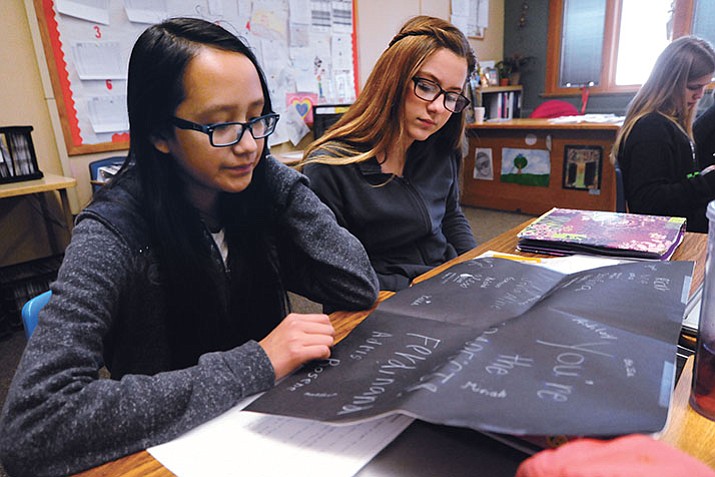 Photo by Les Stukenberg.

Originally Published: January 29, 2017 6 a.m.
For a young teen-ager in Prescott it is almost unfathomable to consider what it might be like to wade through rivers filled with crocodiles just to find drinking water, or to have to hide in a ditch to avoid gunfire on the way to school.
A lost cellphone or no video games for Christmas might be enough to bring them to tears. Never mind a daily struggle to find enough food and water to simply live another day.
"We don't worry about poverty … we expect Christmas presents. We take for granted so much of what we have," said Mile High Middle School seventh-grader Laycee Wasil.
She and three other fellow seventh-graders, though, have gained a different perspective on their lives from a world cultures/world geography lesson that led them to meet one of the "Lost Boys" from the Sudan and study about the refugees of that nation, as well as others, who are now rebuilding their lives in this state.
Student Aliyah Goodman said she had heard of refugees before her teacher Christina Jones introduced her classes to the issue. Yet it was not until reading the book, "A Long Walk to Water" and the introduction to one of the "Lost Boys" that she felt the true impact.
"I didn't know how much they struggled," Aliyah said. "To never see their families again, to not know what happened to them. I'd go crazy."
As a finale to the lesson taught just before Christmas, Jones encouraged her classes to write letters to some of the refugees. That seemed fine to some. Aliyah, Laycee, and two other students, Emma Jarnagin and Lauren Gangwish, opted to try and do even more.
They suggested sending small care packages of such things as stuffed animals, water bottles, dried fruit, coloring books and colored pencils. Their idea caught on with other students.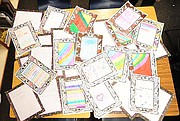 All in all, Jones said her six classes collected more than 100 items that were then delivered to the Alhambra School District in Phoenix that has become a haven for refugees from the Sudan, Syria and the Congo. One school received 60 new refugees at the beginning of the year.
The girls said the stories they read and heard were so heart wrenching, they felt they needed to offer the children not only basic supplies but something that could give them comfort, such as a soft blanket or Teddy Bear to cuddle when they go to sleep at night.
Little did they know the impact their gestures would have on the refugee children. Until Jones started receiving envelopes filled with thank you notes.
The refugee children's English, and handwriting, might still be works in progress, but their colorful drawings and messages exude appreciation and love for the kindnesses showered on them.
One boy penned a note on paper he colored like a rainbow, "Since you were helpful, I will be helpful, respectful and give thanks to a new person."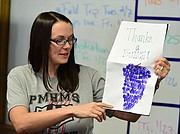 Another child drew a big heart. It read: "I'll never forget you."
For these and other participating students, those words will resonate long after they leave this class.
What might seem like simple gifts to people in Prescott, things like blankets, a stuffed Teddy Bear, paper and pencils, a water bottle, can mean everything to a child arriving to a new country with nothing, the girls said.
From the thank you notes, Aliyah said she now realizes a small deed can make a big difference.
The students' new sense that they can "make a change in the world" is a powerful lesson, Jones said.
All of the girls said they hope one day they might be able to travel to one of these Third World countries where they could dispense goods and "hugs" in person. More immediately, the girls said they would love to be able to arrange a field trip to Phoenix to meet some of the refugees who received their gifts.
Aliyah said she would like to create some kind of a website that would enable others in the community to donate care packages that could be delivered to refugee families on a continuing basis. At the very least, she said she hopes other students learn about the plight of these children and take action.
"I feel what we did really helped," Aliyah declared to the nods of her fellow classmates. "And I want to try and do more. That would be so cool."
More like this story