Originally Published: January 25, 2017 6:01 a.m.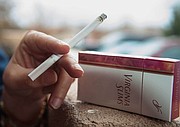 Collectively, the 36.5 million smokers in the United States spend more than $300 billion in smoking-related costs a year, according to the Centers for Disease Control and Prevention.
WalletHub, a personal finance website, has broken this cost down by state plus the District of Columbia. The company calculated the potential monetary losses — including both the lifetime and annual cost of a cigarette pack per day, health care expenditures, income losses and other costs — brought on by smoking and exposure to secondhand smoke. Arizona claimed the 35th spot on the list, with number one having the lowest cost and number 51 having the highest.
Over a lifetime, smokers in Arizona spend $1,631,475 on the habit, according to WalletHub. That total is derived from the following parts (with their national rankings in parenthesis):
Out-of-pocket cost: $131,794 (36)
Financial opportunity cost: $1,110,180 (36)
Health-care cost per smoker: $172,767 (31)
Income loss per smoker: $205,040 (21)
Other costs per smoker: $11,693 (29)
This compares to Kentucky, which has the lowest total lifetime cost per smoker of $1,136,524, and New York, which has the highest total lifetime cost per smoker of $2,313,025.
Annually, the total smoking cost in Arizona comes to $31,990, according to the study.
Studies have shown there is a direct correlation between the rising cost of cigarettes and the product's popularity. In fact, increasing the price of tobacco products is the single most effective way to reduce consumption, according to the Department of Health and Human Services.
A 2012 report put out by the U.S. Surgeon General showed this correlation, stating that a 10 percent increase in price has been estimated to reduce overall cigarette consumption by 3 to 5 percent.
Overall, a 2011 report published by DHHS stated that nearly 7 in 10 (68.9%) adult cigarette smokers wanted to stop smoking and more than 4 in 10 (42.7%) adult cigarette smokers had made a quit attempt in the past year.
That's where Julie "Rocky" Higgins, smoking cessation professional with the Yavapai Regional Medical Center in Prescott, comes in.
Higgins has been working as a smoking cessation professional for more than 30 years and currently teaches free quarterly smoking cessation classes through the hospital.

One of the first thing she has participants of her six-session class do is get two jars. She tells them to begin putting their cigarette butts in one jar, "because even smokers cannot stand the look of old, dirty butts," and the money they saved from not buying cigarettes each day in the other.
This practice allows the participants to realize the amount of money they've actually been spending on the habit, Higgins said.
"We don't see that money accumulate otherwise," she said. "One lady came in and she had 17,000 $1 bills to show my class what she saved and she was going to buy a new car."

Smoking cessation resources such as the class taught by Higgins are free. To sign up for her class, anyone can call YRMC at 928-771-5738.
Another significant and free resource is ASHLine, Arizona's official smokers' helpline. It can be reached by calling 800-556-6222.
Not only do these programs give out free smoking cessation starter kits, but they also provide tips on how to realistically kick the addiction.
"I really think the key to all of this is the education," Higgins said. "People think they don't need it and I think once they start finding out the big picture — the diet, the change in the routines, the triggers, how long urges last — I think it makes more sense to them."
More like this story