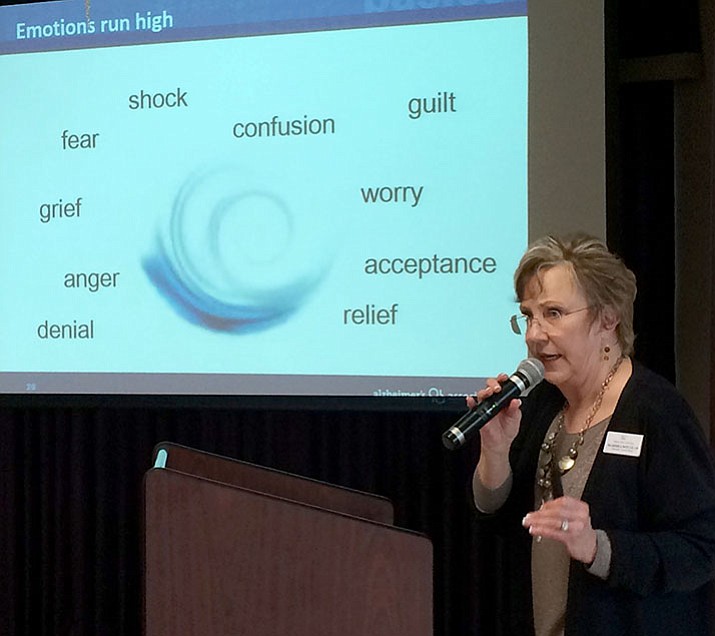 Photo by Sue Tone.
Originally Published: January 25, 2017 6:17 a.m.
Nationwide, in 2016, 5.4 million people have a diagnosis of Alzheimer's disease. This single disease will bankrupt the health care system, participants learned at the Senior Connections' presentation Jan. 12 on 10 Signs of Alzheimer's.
The 10 signs are ...
Memory changes that disrupt daily life, like not remembering phone numbers or addresses.
Challenges in planning or solving problems.
Difficulty completing familiar tasks, such as setting the table or following a well-used recipe.
Confusion with time or place.
Trouble with visual images and spatial relationships, interpreting a sequence of instructions.
New problems with words in speaking or writing.
Misplacing things and losing the ability to retrace steps.
Decreased or poor judgment, like giving money to charities or to anybody who asks.
Withdrawal from work or social activities, because they realize something is wrong.
Changes in mood and personality, often becoming more bitter, just not like themselves.
Marsha Douglas, community liaison director with Adult Care Services, presented information on the disease to about 60 people at the Las Fuentes Resort Village. Participants also learned that Alzheimer's makes up 70 percent of the more than 60 types of dementia.
The disease occurs when neurons in the brain begin to die out. It can start up to 20-25 years before the symptoms show up.
"By then, the person is in the disease pretty deeply," Douglas said.
Alzheimer's is a progressive disease with no cure. The biggest risk factor is age, and since women tend to live longer than men, it occurs in more women. Down syndrome is correlated with Alzheimer's, as well as two genetic factors.
From diagnosis to death, the average span is four to six years, Douglas said. Before seeing a doctor – choose one with experience with diagnosing Alzheimer's – the spouse or family members should keep a log of specific symptoms that have occurred. Also, bring all medication to the appointment and a list of current and previous health problems.
The earlier the diagnosis, the better, Douglas said, because there are medications available that can treat the symptoms. Some may improve the memory or help with social or behavioral interactions, with modest effectiveness. They seem to be useful in the short run, or they may not have any effect.
Once there is a diagnosis, it is important to plan for the future. Who will become the caretaker? Who will make a decision on care options? With a game plan in place, decisions aren't made in the middle of a crisis, she said.
In the early stages of the disease, the patient can still make decisions and should be an active partner in his or her care.
"Support groups are very important," Debbie Stewart of Senior Connection said, adding that the local police departments will provide an ID bracelet in order to identify and locate those who might wander away from the home.
For patients whose symptoms tend to get worse at dusk (Sundowners Syndrome), adding light sources, playing soft music, or involvement in activities can help. Sometimes patients develop a fear of water, which makes it hard at bath time.
There are helpful tactics for dealing with wandering. One is to paint the floor in front of the doorway black, which patients interpret as a hole. Disguising the door by painting it with a scenic view is another.
In the Prescott area, families can find help in support groups, Stewart said. The meetings are invaluable and are kept confidential. She said some families carry business card-sized notes that can be given out to the public, reading "My loved one has Alzheimer's. Thanks for being understanding."
For more information, contact Joan Ryan, family care consultant with the Alzheimer's Association, Desert Southwest Chapter, Northern Arizona region, at 928-771-9257. Visit www.alz.org or call the nationwide 24-hour helpline at 800-272-3900. Senior Connection has a list of support group meetings at seniorconnection.us.