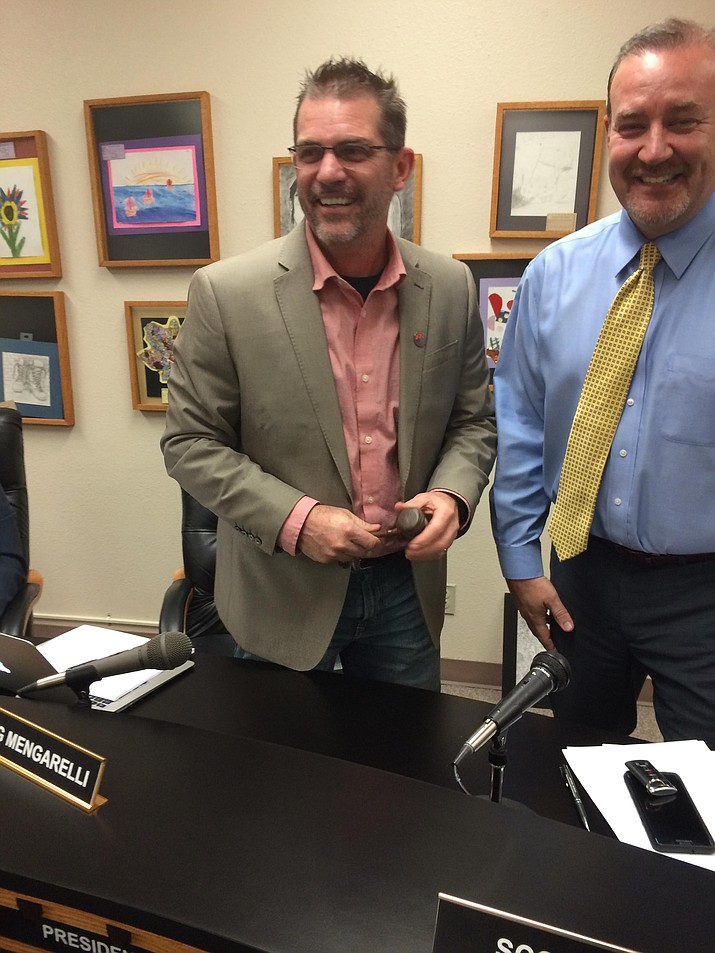 Photo by Nanci Hutson.

Originally Published: January 24, 2017 6 a.m.
PRESCOTT — In Greg Mengarelli's world, children are always in the forefront.
The married father of nine children – five biological, two adopted and two foster – has devoted his adult life to assuring children connect with the outdoors and build one-on-one relationships through positive camping experiences.
For the last 22 years, the 50-year-old Kansas State University graduate has worked as executive director at the United Christian Youth Camp that puts on year-round camp programs for children, teens and adults.
Those experiences speak to his passion for entitling all children to public education opportunities that will enrich their lives and equip them to follow their dreams, be it a path that leads to college or to the post-secondary trade school or directly into the career of their choice.
"At the very core I am for those students whose best option is public education," said Mengarelli, who on Jan. 10 was unanimously elected to be president of the five-member Prescott Unified Governing Board. He steps into the role that last year was filled by Dr. Scott Hicks, who was just re-elected to a second, four-year term in November.
"I want to make public education the best for everyone, so all go on to do great things; I'm most passionate about those who without public education wouldn't have any other opportunities" Mengarelli said. For them, and for all students, public education needs to be "the best option."
With that belief in mind, Mengarelli got involved in 2013 with PUSD's efforts to pass a bond and override, one that failed but two years later passed with overwhelming community support. The experience of pushing for more funds to benefit the district opened Mengarelli's eyes to the struggles and triumphs within the district. So when he was encouraged to consider running for the Governing Board, Mengarelli agreed to do so.
Citing the words of the late President Theodore Roosevelt's "Man in the Arena" speech, one that suggests it is not the "critic who counts" but the "man actually in the area," the one marred by "dust and sweat and blood," striving valiantly amid mistakes to pursue a "worthy cause."
"The credit belongs to the man … who at the best knows in the end the triumph of high achievement, and who at the worst, if he fails, at least fails while daring greatly …" Roosevelt declared.
"That really motivated me," Mengarelli said of opting to campaign for the seat to which he was elected in 2015. "A lot of people talk about education, and all public issues, but there are not a lot willing to step into the arena and at least try and do it a little better."
In his case, Mengarelli said he simply felt "I couldn't just sit in the stands anymore. "I needed to be in the arena. It was worth it to make education better for the children in our district," he said.
District Superintendent Joe Howard said he is excited to work with Mengarelli, who he first met when he was the Mile High Middle School principal and was approached as a supportive parent. He, too, has seen his work at the camp, and has found him to be a "revered leader who is highly respected by his staff."
With his background in leadership and affinity for doing what's right for youth from all backgrounds and circumstances, Howard said Mengarelli is well equipped to represent the district in all of its efforts. As the new board leader, Mengarelli pledges to follow his predecessor's example when it comes to rallying the community to meet the best interest of its constituency, students, faculty and staff. He said he has great admiration for his board colleagues who have been forced to make some tough decisions, yet still managed to generate adequate community support to take necessary actions. In the coming months, with the sale of properties and preparation of a budget, Mengarelli is confident the right decisions will be made to spend the dollars "where they will make the most difference." "We have a bright future," Mengarelli said. "I'm most passionate about customer service. I want us to deliver a high level of service to our students, our families and our community. "I want to make sure the community knows everything PUSD has to offer … we compete with some of the best-performing schools in the state."