Originally Published: January 23, 2017 1:18 a.m.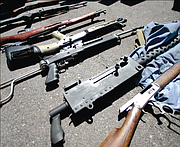 PRESCOTT — The City of Tucson has been under scrutiny by state Attorney General Mark Brnovich for its practice of destroying guns seized by police.
Brnovich said a 2013 Arizona law requires cities to sell legal, working seized firearms to dealers; Tucson claims that law is unconstitutional.
In Yavapai County, law enforcement agencies don't destroy them, unless they're illegal to possess.
Weapons seized by the Prescott Police have one of three futures, according to spokesman David Fuller:
• "If the courts order that a weapon is to be forfeited, then the weapon is turned over to YCSO (the Sheriff's Office) and the RICO (Racketeer Influenced and Corrupt Organizations) forfeiting statutes would apply;
• "If forfeiture is not ordered, then the gun gets returned to the rightful owner;
• "Other weapons that are turned in to us for a variety of reasons are set aside for auction."
After legal forfeiture takes place, Prescott Valley Police Sgt. Jason Kaufman said, his department has other possible options for remaining weapons that are not auctioned by the sheriff's office:
• "The guns are used by the police department and are deemed police weapons after being inspected by the armorer;
• "The guns are destroyed because they are illegal to possess," such as machine guns or sawed-off guns.
Fuller said the Prescott Police Department does not keep seized weapons for its own use.
The YCSO is responsible for auctioning the guns once they are received.
The money it receives, by selling them at auction to licensed federal firearm dealers, goes into the RICO fund for later dispersal by the Yavapai County Attorney's Office—via a committee of law enforcement officials — to county law enforcement agencies.
Other so-called "unclaimed weapons" in the agency's hands are auctioned, with credit for them going back to the YCSO for purchase of future needed armaments, in what is called the trade/retention program."
The unclaimed weapons, which come from a variety of sources — traffic stops where guns are held and never reclaimed, orders of protection, surrendered, found property— are thoroughly checked.
"A certain amount of weapons become a 'lot' and before they are offered for auction, a final record check is completed to make sure there are no 'hits,'" said Dwight D'Evelyn, YCSO spokesman. "Occasionally, the evidence tech will get a return indicating a firearm has been reported missing for example. This reporting would have occurred during the time the weapon was in our custody, and firearms in this category are removed from the lot."
At auction, dealers are allowed to bid on a lot—which may be 100 weapons—only, not individual guns, he said.
"Sealed bids are submitted and reviewed by (YSCO) command staff," D'Evelyn said, and the bid must be approved by the Yavapai County Board of Supervisors.
He noted that these auctions are held "once every couple of years" and that the sheriff's office has about 200 unclaimed guns awaiting that auction.
"Occasionally, YCSO may retain weapons from the trade/retention program for use within the agency, usually for training purposes," D'Evelyn said.
Follow Scott Orr on Twitter @AZNewsguy. Call him at 928-445-3333, ext. 2038, or 928-642-7705.
Related Stories