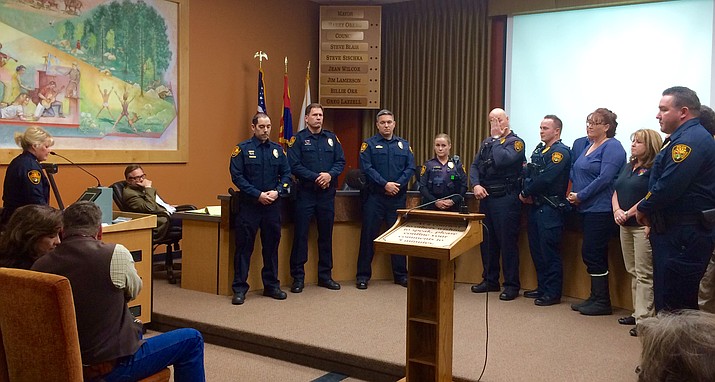 Photo by Cindy Barks.
Originally Published: January 16, 2017 5:59 a.m.
PRESCOTT – Prescott Police Chief Debora Black evoked images of past mass-shootings around the country this week, when she commended local police officers and dispatchers for averting a similar tragedy in Prescott.
"Aurora, Columbine, Charleston, Sandy Hook, Orlando, Tucson, and just last week, Ft. Lauderdale, and so many others," Black said during a presentation at a Prescott City Council meeting Jan. 10, for officers and dispatchers who responded to a potential active shooter at the Highway 69 Walmart on Dec. 3, 2016.
Noting that "Our first thought when we hear this long list of cities … is about the common tragedy they have all experienced," Black commended the local officers and dispatchers for ensuring that "it did not happen in Prescott."
She added that public-safety professionals have long trained for such an incident "while we pray it never happens in our city."
On Dec. 3 – the same day that the community was gearing up for Prescott's annual Christmas Parade and Courthouse Lighting – Black said, "Due to a citizen who saw something and said something, and the immediate and effective response of the men and woman who stand here today, it did not happen in Prescott."
The commendation notes that the response began with a 911 call, reporting that a Walmart employee had left the store after becoming disgruntled, only to return later with a rifle.
Dispatchers initially worked to get information from the store manager, and then kept officers up-to-date throughout the incident, Black said.
When located by officers, the Wal-Mart employee (later identified as Ebonice Johnson) repeatedly said "shoot me," and "I want to die," and failed to obey the officers' commands to keep her hands up, according to the commendation.
Still, officers continued negotiations with Johnson, as they approached her, while keeping her "under lethal cover," the commendation said, and ultimately placed her in handcuffs.
"The suspect was taken into custody without any injury, and officers located a rifle outside the store along with a knife and instruments used to light a fire," Black said, adding that Johnson later admitted to officers that "she intended on killing employees inside the store."
The commendation concluded: "The dispatchers, officers and detectives present on Dec. 3 performed extraordinarily and prevented certain tragedy due to their actions."
The commendation was presented to: Lead Police Officer Matt Medina; Field Training Officer Arron Jennison; Officers Troy Crawford, David Holmes, Jessica Hugus, and Andrew Thatcher; Detectives Jeremy Brazell, John Hanna, and Jack Shapiro; Dispatch Supervisor Vivian Marcott; and Dispatchers Jennifer Bass, Billie Denike, Sarah O'Brien, Desiree Ortiz y Davis, and Yasmine Sealy.
Follow Cindy Barks on Twitter @Cindy_Barks. Reach her at 928-445-3333, ext. 2034.