Originally Published: January 15, 2017 6 a.m.
(Director's note: With growing evidence that reader comments taint perceptions of news coverage, The Daily Courier has discontinued the practice of allowing anonymous comments at the end of our stories. Another reason we made this decision is because of the way people treat each other when they hide behind a username. Too often, nameless commenters get into contentious arguments because they assume the worst in others who have different beliefs.)
---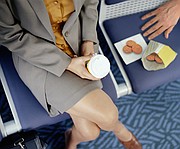 At the airport after a grueling business trip a woman's return flight was delayed. She went to the airport shop, bought a book, a coffee and a small packet containing five gingernut biscuits.
The airport was crowded and she found a seat in the busy lounge next to a stranger. After a few minutes' reading she became absorbed in her book. She took a biscuit from the packet and began to drink her coffee.
To her great surprise, the stranger in the next seat calmly took one of the biscuits and ate it. Stunned, she couldn't bring herself to say anything, nor even to look at the stranger.
Nervously she continued reading. After a few minutes she slowly picked up and ate the third biscuit. Incredibly, the stranger took the fourth one and ate it, then to the woman's amazement, he picked up the packet and offered her the last biscuit.
This being too much to tolerate, the woman angrily picked up her belongings, gave the stranger an indignant scowl and marched off to the boarding gate, where her flight was now ready.
Flustered and enraged, she reached inside her bag for her boarding pass, and found her unopened packet of five gingernut biscuits.
---
After I read this story for the first time I immediately read it again to gain a new perspective on the stranger in the airport. I thought about the emotions and thoughts that must have been going through his mind when the woman reached down and took one of HIS gingernut biscuits.
It dawned on me that he might have had the same initial thoughts and feelings that she had, but the difference was how he chose to react to what had just happened to him.
Instead of being angry he chose to share, even offering this strange woman his last biscuit. He had no way of knowing that she thought they were hers. He decided to assume the best.
One of our sons recently returned from a two-year stay in the embattled region of eastern Ukraine. He said that of all the lessons he learned while living there, the greatest is recorded in Romans 12:21:
"Be not overcome of evil, but overcome evil with good."
He said he learned that we must, "Always make the good choice. Take the good road. Do the good thing. If someone is hurt, comfort and heal them. If someone is discouraged, give them confidence. If someone is scared, please, love them."
I found myself adding, "If someone takes one of your biscuits, give them another one."
A great woman named Marjorie Pay Hinckley once said:
"The trouble with the world and the trouble with you and me is that we don't love each other enough. And if we do, we don't bother to show it, or we don't bother to say it. If the world is to know love, it has to be in your heart and in mine."
I'll close with one more quote from Marjorie Pay Hinckley that I think fits the man in the airport who shared his gingernut biscuits:
"True spirituality makes you loving and grateful, and forgiving, and patient, and gentle, and long-suffering. True spirituality breathes reverence into every act and deed."
I believe the key to avoiding the most unnecessary arguments is to always assume the best in everyone you meet.
Or as my son so simply put it, let us "Do the good thing" and keep sharing our biscuits, no matter what.
Related Stories