Originally Published: January 11, 2017 6:01 a.m.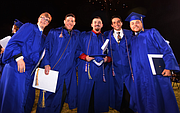 PRESCOTT – A high school dropout will earn $200,000 less than a high school graduate over his lifetime, and almost a million dollars less than a college graduate, according to statistics compiled by DoSomething.org.
Worse, in the U.S., high school dropouts commit about 75 percent of crimes.
In 2014, a report by the Arizona Mayors Education Roundtable said "research states that reducing the number of dropouts by half would generate more than $3.8 billion in economic benefits to the state."
That comes as no surprise to Tim Carter, Yavapai County School superintendent, who noted that the reverse – the cost to taxpayers – is astronomical.
That report said the 18,000 students who dropped out of high school in 2014 would end up costing the state $7.6 billion over their lifetimes.
"I think taxpayers, if they're not aware of that, should be," he said. "It is an expense against the system and it continues to be an expense."
Carter said school districts' programs intended to prevent students leaving school or bring students back after they drop out, have had "a significant positive influence."
Also important, he added, is developing programs to meet the needs of today's students, asking how they can work to make schools meet their needs so they can stay in class.
Dan Streeter, superintendent of the Humboldt Unified School District, said his district's dropout rate is at 2.9 percent, lower than the state's rate of 3.46 percent, and level with Yavapai County's 2.9 percent.
They've done that by coming up with so-called "alternative tracks" for students, he said, noting that they also have a credit-recovery program, which allows students to make up lost credits, resulting from failure to pass a class.
The graduation requirements currently in place mean that losing a core credit through failure can make it "almost impossible" for a student to graduate with his or her class, Streeter said.
"We do a lot of work in the first two years (of high school) with trailer courses, so at semester, if a student has failed a course, second semester we can intervene immediately and help that student fill in the gaps and make up that credit well as the second semester credit," Streeter said.
Prescott High School Principal Stephanie Hillig said, "We have the availability and the opportunity to meet the needs of students whether they're going through a situation where they have to work, or if they are having some family issues, and can't attend school for a personal reason, we're able to meet their needs in other settings."
Schools have changed over the past decades, she said. "I think now that we have more resources available to us and the state has given us more opportunities, and other alternative education ways, I think that has been huge."
If that all sounds too "touchy-feely" to you, Carter can sympathize.
"I can understand why a person would say, 'It's their decision. If they want to ruin their lives, and drop out, let them. Work with the kids who want to be there.'"
But, he said, he also sees the damage to society that larger numbers of dropouts can produce.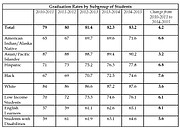 "Look at how it impacts local communities and local taxpayers, and (look at) the stress it has on local government agencies and social agencies," Carter said. "How can a reasonable person just turn their back on it and say, 'That's okay, let's just not worry about it?'"
There's reason to be optimistic: The National Center for Education Statistics published information that states, "The (national) dropout rate decreased from 12.1 percent in 1990 to 6.5 percent in 2014, with most of the decline occurring after 2000, when it was 10.9 percent."
Arizona has improved, too, bouncing back from a worst-in-the-nation 7.8 percent in 2010.
"I think, clearly, we are improving, no doubt about it," Carter said.
Still, Streeter said his district's dropout rate of 2.9 percent bothers him.
"I think (zero dropouts) is something we have to shoot for."
Click here for further details on state-by-state graduation rates