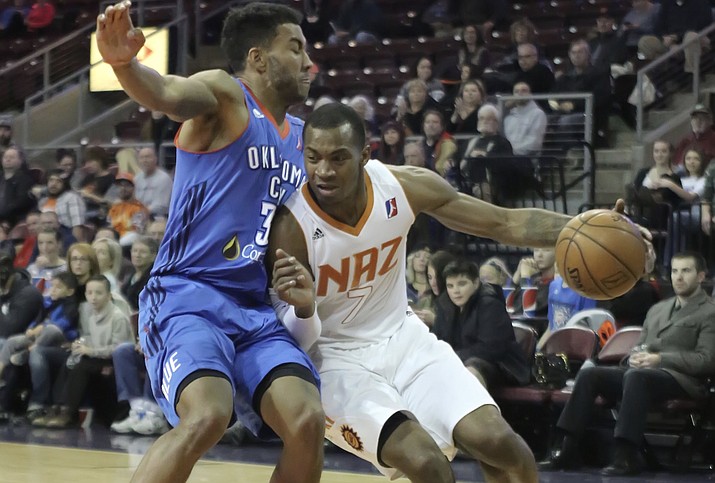 Originally Published: January 10, 2017 10:18 p.m.
PRESCOTT VALLEY — Elijah Millsap and Johnny O'Bryant each recorded a double-double, Askia Booker chipped in with 18 points and Northern Arizona snapped a nine-game losing streak with a 94-88 win over Oklahoma City on Tuesday night.
Millsap scored 23 points and grabbed 10 rebounds, but was a perfect 10 for 10 from the free-throw line and really stepped up in the second half, according to Suns head coach Tyrone Ellis.
"I told them, 'Guys, we've been here before. At some point you have to get tired of this,'" Ellis said after his club surrendered an 18-2 run midway through the third quarter after leading 46-38.
"After that, Eli [Millsap] shut me up and he took over, and the guys came out and responded," Ellis added.
The former UAB standout was 6 for 6 from the charity stripe in the last 20.2 seconds, putting the Suns over the top against the Blue, which came into Tuesday night's contest riding a NBA D-League best seven-game winning streak.
"Eli did what leaders do," Ellis said. "I can't say enough about his leadership."
Northern Arizona (11-10) has a propensity to struggle from the free-throw line, sporting a league-worst 66.8 percent, but not Tuesday night, finishing 20 of 26 from the line to earn their first win since Dec. 10.
Booker finished with five 3-pointers and dished out six assists. Derek Cooke Jr. had 16 points on 6 of 7 shooting in 19 minutes off the bench.
"Personally, it was a good feeling," Booker said about the win. "It's a relief, but at the same time, we have 29 games left. We can't get drunk off our own wine."
O'Bryant scored 22 points on 7 of 17 shooting from the field and grabbed 15 rebounds. The former LSU standout completed a three-point play to give the Suns a 84-83 lead with 3:25 to play, and they never trailed again.
O'Bryant said the most important thing was getting a win.
"It's a stress reliever, we've been fighting and we've playing some tough games, so to finally get the win is fun," O'Bryant said.
Oklahoma City head coach Mark Daigneault said he "loves" O'Bryant's offensive game and court awareness.
"He's a threat in a number of ways on offense. … He's a crafty player, he shot fakes, so you have to be really disciplined with him. He not only tests the guy that's guarding him, but the whole defense," said Daigneault, whose team is just one of two D-League clubs allowing less than 100 points per game at 99.1.
Standouts for Oklahoma City (15-8) include Dakari Johnson with 21 points, while Jannero Pargo had 17 points on four 3-pointers in 22 minutes off the bench.
FINALLY, IT'S OVER
During the nine-game losing streak, Northern Arizona averaged just 96.8 points per game, while allowing 107.1 defensively.
The Suns scored 100 points or more in seven of their first 11 games, going 10-1, but scored over the century mark just twice during that streak. During those first 11 games, Northern Arizona averaged 109.8 points per game, while allowing just 98.5, best in the D-League at the time.
INJURY REPORT
Derrick Jones Jr. sat out Tuesday night after suffering a right ankle sprain in the 111-98 loss to Canton on Jan. 6. The former UNLV standout is on his fifth assignment from the parent-club Phoenix Suns and said in the locker room Tuesday night he hopes to be back this weekend.
UP NEXT
Northern Arizona wraps up a short two-game home stand Saturday by welcoming Grand Rapids (11-12) to the Prescott Valley Event Center. The Drive currently sit fourth in the Central Division.
Tipoff is scheduled for 7 p.m
Brian M. Bergner Jr. is the associate sports editor for The Daily Courier. Follow him on Twitter, Instagram, Periscope and SoundCloud at @SportsWriter52, or on Facebook at @SportsAboveTheFold. Reach him by phone at 928-445-3333, ext. 1106.