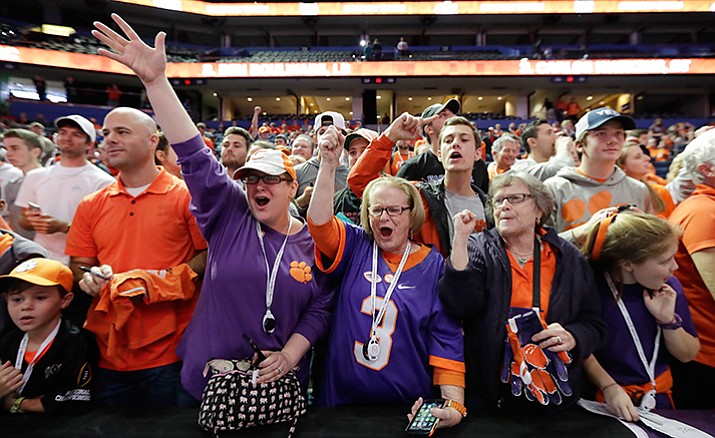 Photo by Associated Press.
Originally Published: January 9, 2017 6 a.m.
TAMPA, Fla. — Nick Saban and Alabama are on the verge of leaving college football history behind.
The top-ranked Crimson Tide face Clemson on Monday night in a College Football Playoff national championship game rematch. A victory would give Alabama five national championships in eight seasons, a feat never completed at the highest level of the sport during the poll era.
Document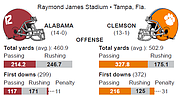 The Tide (14-0) can become the first FBS program to finish 15-0, along with the first to win four championships in span of six seasons, going back-to-back twice in that span.
A case can already be made that Alabama's current run is the greatest in college football history. Better than Notre Dame back in the grainy black-and-white footage days of Knute Rockne and Frank Leahy. Better than Miami's long run of dominance in the 1980s and early '90s. Better than anything Alabama did when Bear Bryant was leading the Tide in the 1960s and '70s.
Another title would give Saban six during the poll era that began in 1936, including a BCS crown at LSU in 2003, matching Bryant for the most of any major-college coach.
With one more championship, there will be no more college football dynasties left to compare to Saban's.
"I mean, I've never seen anything like it," said Clemson coach Dabo Swinney, an Alabama native who grew up worshipping Bryant and ended up playing for national championship Tide team in 1992. "Every year is kind of that season of its own and you have your challenges, and it's a journey of its own. But to be able to regroup and create that edge and meet those challenges, continue to manage your staff and your roster and compete at the highest level, I mean, it's just unbelievable what has happened."
Got $1,599? How about $17,820? That's the price for a national title ticket
TAMPA, Fla. (AP) — The College Football Playoff national championship game is a hot ticket.
The combination of Alabama and Clemson meeting in a rematch of last year's final, plus the proximity of the schools to Tampa, is causing prices to surge for Monday night's game.
As of Sunday afternoon, ticket prices on StubHub ranged from $1,599 for a ticket in the upper deck to $17,820 for a sideline seat in the lower bowl in the 70,000-seat stadium.
Tuscaloosa, Alabama, is 572 miles northwest of Tampa, while Clemson, South Carolina, is 572 miles northeast.
Both are within easy driving distance, whereas most fans of the Crimson Tide and Tigers were forced to fly cross-country to Glendale, Arizona, when the teams met a year ago.
College Football Playoff executive director Bill Hancock said that last season the CFP executives were talking in Arizona about how well an Alabama-Clemson matchup would do ticket-wise in Tampa.
"I love the fact that the fans from both schools can drive. And we see that in the demand for tickets," he added. "We see that in the crowd at Playoff Fan Central. We see it at the concerts. You just see a lot of orange and a lot of crimson. I like that. It's a good thing for the game."
Swinney and Saban held a joint news conference Sunday morning at the convention center in downtown Tampa. The same deal as last year, just in a different place.
Swinney's team stands in the way of an Alabama championship again. The Tigers have not won a national title since 1981. As Swinney and his players have said over and over, it is the only box left for the program to check as it has taken a place among the elite in college football.
Heisman Trophy runner-up Deshaun Watson said he knew when he decided to come to Clemson in 2012 he was joining a program poised for big things. "I felt the energy, I bought into what Coach Swinney was saying and what he thought the future was going to bring to this program and I wanted to be a part of it," said Watson, a junior most certainly playing his last college game.
Clemson is working on a streak of six consecutive 10-win seasons, topped only by Alabama's 10 straight.
Watson, the quarterback from Gainesville, Georgia, has been maybe the biggest reason why Clemson has become Alabama's final and greatest challenge the last two seasons.
He was spectacular against the Tide in the title game last year with 478 total yards. Unable to stop Watson, Alabama used a surprising onside kick to swing the game its way and win 45-40.
The Crimson Tide defense enters the game ranked tops in the nation in total defense, rushing defense, yards per play allowed and points allowed. It is also responsible for 12 of the team's stunning 15 non-offensive touchdowns.
Clemson, meanwhile, is coming off its best defensive effort for the season in a 31-0 Fiesta Bowl win against Ohio State.
The Tide has won 26 straight games. The Tigers are 27-2 the last two seasons. "Frazier-Ali type of fight," Alabama tight end O.J. Howard said. "Two great teams, and we're going to go at it and it's going to be a great game Monday night." Howard added: "We're Ali."
Things to know about Tide vs. Tigers II:
HURTS SO GOOD: Alabama's Jalen Hurts could become the first true freshman quarterback to lead a team to the national championship since Jamelle Holieway did it with Oklahoma in 1985.
Hurts is coming off one of his worst games of the season. He was 7 for 14 for 57 yards against in a 24-7 victory against Washington in the Peach Bowl.
SARKISIAN'S DEBUT: Hurts will have to turn it around with a new offensive coordinator and play-caller. Former USC and Washington coach Steve Sarkisian takes over after spending the season in Tuscaloosa working as an analyst and aid to Lane Kiffin, who is now the head coach at Florida Atlantic. Saban made the change after the Washington game.
"So it's really different, but I think we feel good about the situation we're in, and we all think that he'll do a great job come Monday," Hurts said.
END OF AN ERA: Clemson won't fade away after this season, but the Tigers are losing the core of a great team.
Mostly likely joining Watson as an early NFL draft entrant are receiver Mike Williams, a likely first-round pick, and leading rusher Wayne Gallman. Receiver Artavis Scott is also in the group the Swinney said he expects to leave early. The Tigers also will say goodbye to senior center Jay Guillermo and three defensive players who earned All-America honors in defensive tackle Carlos Watkins (second-team), linebacker Ben Boulware (third team) and cornerback Cordrea Tankersley (third team).
BEATING No. 1: This would be Clemson's first victory over a team ranked No. 1 and would give the Tigers five victories against ranked opponents this season, the most in school history.
ROLLING VS. RANKED TEAMS: Alabama has won 16 straight games against ranked opponents, matching Southern California's record streak during the Pete Carroll era (2001-09).
More like this story