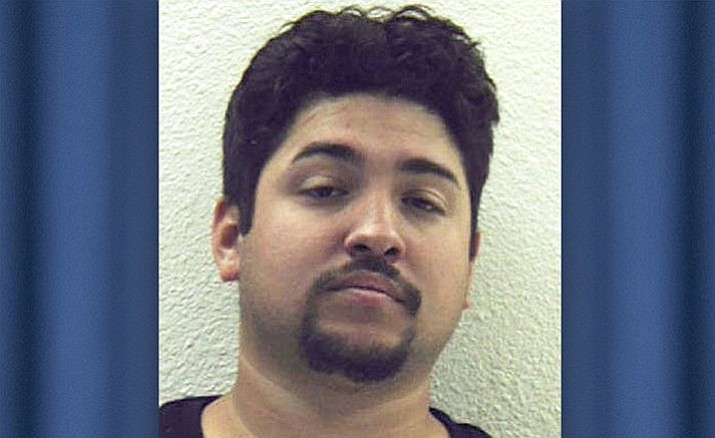 Originally Published: January 7, 2017 6 a.m.
Richard Quiroz, 23, of Prescott Valley is currently being tried in Yavapai County Superior Court for the alleged murder of 17-year-old Gabriel Calderon, also of Prescott Valley.
Yavapai County Attorney Steve Young said in his opening statements that on April 16, 2014, at about 10:58 p.m., the Prescott Valley Police Department received a 911 call that a 17-year-old had been shot outside of his home.
Gabriel's mother, Tina Calderon, recalled during the second day of the trial on Friday, Jan. 6, hearing six gunshots before she was able to run outside to find her son laying on the ground with her other son and Gabriel's fiancé standing over him.
"[Gabriel] was laying on his back, his head was over here and his feet down here," Tina said, pointing to a photo of the front driveway of her home projected on a screen in the courtroom.
When officers arrived on scene, they found Calderon on the ground between two vehicles in the driveway of the home he shared with his mother, fiancé and 2-year-old son. Calderon's brother was attempting to apply pressure to Calderon's chest.
Calderon's shirt was soaked in blood. When officers cut his shirt off, they found several wounds to his chest and arms, according to police records.
Calderon was initially conscious; a short time later he was able to tell officers that he had been taking the trash out when a vehicle drove up and he was shot several times. He could not, however, identify who shot him or what kind of vehicle the shots came from.
Calderon then lost consciousness. He was transported to the hospital in Prescott Valley and eventually flown to a hospital in Phoenix. In the early hours of April 17, 2014, Calderon died.
In his opening statements to the jury, private defense attorney Ryan Stevens of Griffen & Stevens Law Firm, PLLC, did not dispute the facts of the case, but said the state's arguments are based on circumstantial evidence.
An investigation by police turned up a shotgun casing in the roadway and multiple shotgun projectiles — as well as their impacts — surrounding the area where Calderon had been laying when police found him, Young said.
The initial investigation focused on several individuals who had either had contact with Calderon in the hours before his death or who were reported to have been involved in the murder.
The Prescott Valley Police Department investigated each of those leads and found all of them to have legitimate alibis. But, based on tips provided to PVPD, the focus of the investigation turned to Richard Quiroz.
Investigators learned Quiroz had fled the state with a family member, but information indicated he was returning to the Prescott Valley area.
Around that time, enough evidence was gathered for detectives to obtain an arrest warrant for Quiroz. The U.S. Marshal's Service assembled a 16-member team that coordinated an arrest plan to intercept him in the Congress area, according to Courier reports.
They attempted to catch Quiroz in his vehicle when he intentionally rammed a task force member's vehicle, causing moderate damage, according to the Prescott Valley police spokesman. The officer in the vehicle was not injured.
Police stopped Quiroz's vehicle a short time later. The two occupants eventually exited the vehicle and were taken into custody without further incident. The two men in the vehicle were identified as Richard Quiroz and 22-year-old Chris Quiroz, also of Prescott Valley.
Richard is facing charges of first degree murder, tampering with a witness, aggravated assault, unlawful flight, and criminal damage.
Chris was booked for unrelated felony drug charges.
The judge overseeing Richard's trial is Yavapai County Superior Court judge Tina Ainley. Ten days are allotted for the trial, which continues next week.