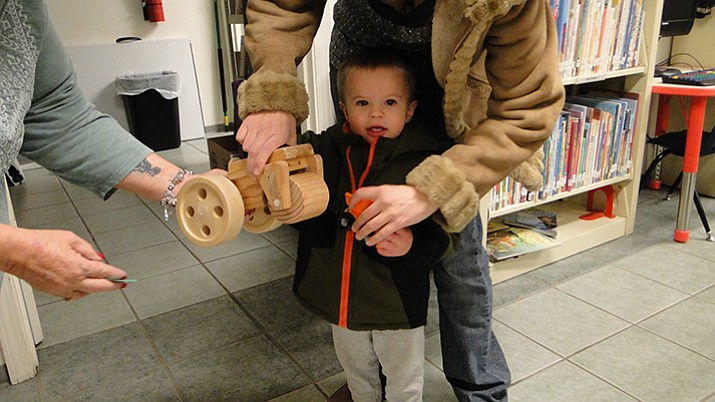 Originally Published: January 6, 2017 5:50 a.m.
The Cordes Lakes Library is always a busy place, but with the wonderful wooden toys ready for raffle, it was more crowded than usual. Most winners were present, but one family seemed to dominate the winnings. That's not surprising when you realize that three children from 1-1/2 to 7 years of age check out – and read – about 300 books a month. True, many are just a few pages for the little ones, but that is a lot of reading. Libraries are there to help open the mind and discover the world, and the Navarro family certainly does their share.

Jeremiah Navarro was the first winner and took home the airplane. Tylor Jacobson won a road roller; Bob Wilcox won the road grader; Eli Novarro got a tractor; Cheryl Davis wasn't present but won the rubber band gun; and Nora Navarro won the group of small cars. Raffles like this are the fundraisers needed to continue with children's parties and crafts, so the staff at the Library thanks everyone for their participation.