Originally Published: January 5, 2017 9:21 p.m.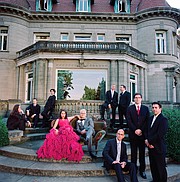 Bandleader Thomas Lauderdale first formed Pink Martini 22 years ago to play at political fundraisers for civil rights, environmental and educational causes. The talented 12-member "little orchestra" has cut nine albums since 1994.
Based in Portland, Oregon, the group draws from a mix of classical, Latin, jazz and pop music from around the world. Pink Martini performs at 7:30 p.m. on Tuesday, Jan. 10, at the Yavapai College Performing Arts Center. Tickets are $32-$58. A pre-show dinner is available for $32.
The members of this gifted group of musicians have a depth of ability and performing experience, and a wide-ranging repertoire. They have traveled the world and their music extends beyond national boundaries.
Their recordings include at least a dozen languages as varied as Turkish, Japanese, Romanian and Xhosa. According to Lauderdale, performances can be something like "an urban musical travelogue."
On some of their albums, available on CD as well as vinyl, guest singers have included diverse performers such as four great-grandchildren of Capt. and Maria von Trapp, the late Phyllis Diller and Rufus Wainwright.
Tuesday's concert includes China Forbes, vocalist and songwriter, who joined Pink Martini in 1995. She wrote the group's popular cover song, "Hey Eugene," and co-wrote with Lauderdale several other Pink Martini songs.
Other musicians include upright bass player Phil Baker, who toured with Diana Ross for nine years. He played Motown 25 with Michael Jackson, Smokey Robinson and Marvin Gaye.
Trumpet and cello player Pansy Chang earned a Fulbright grant to study in the United Kingdom and has appeared with many chamber groups and symphony orchestras. Violinist Nicholas Crosa appeared as a soloist with Portland Festival Symphony at age 11. He has performed in Buenos Aires, and as a soloist with orchestras the Pacific Northwest and with the Aspen Concert Orchestra.
Guitarist Dan Faehnle played with Diana Krall, Zoot Sims, and Delfeayo Marsalis. He has two solo recordings with Heavywood Music. Drummer/percussionist Anthony Jones played his first paid gigs at age 14, and played trumpet in the movie "Mr. Holland's Opus." He also earned a degree in architecture.
Timothy Nishimoto, vocals and percussion, began singing and performing at age 2 in church choirs. He sang barbershop in high school and college, graduated with a degree in business, and opened a wine bar and bistro.
Kyle Mustain, English horn and producer, joined three years ago. He started on the French horn at 11, and moved on to the English horn and oboe a year later. He has performed in Brazil, and with the Los Angeles Philharmonic, Atlanta, Houston and Indianapolis symphonies.
Robert Taylor, trombone, played under Mstislav Rostropovich and Leonard Slatkin. He has produced or coproduced three Pink Martini albums. Brian Lavern Davis, percussion, studied in India, Japan, Puerto Rico, Jamaica and Brazil, and toured with Herbie Hancock.
For tickets, call 928-776-2000. Tickets must be purchased separately for pre-show dinner, and reservations must be made at least 48 hours in advance of the show, at the same phone number.