Photo by Les Stukenberg.

Originally Published: January 4, 2017 6 a.m.
PRESCOTT VALLEY – Prescott High's girls' soccer team won its Class 4A Grand Canyon Region opener on Tuesday night, Jan. 3, shutting out Mingus Union, 8-0, at Mountain Valley Park's turf field.
Freshman Sawyer Magnett tallied a hat trick with three goals scored, all in the first half, to pace PHS. Katie Townsend also had a hat trick of three goals scored, along with an assist. Erika Smith and Mikayla Sell chipped in with a goal apiece. Makena Jex, Ivy Garduno, Lauryn Mayhan and Sell notched an assist apiece.
Photo Gallery
PHS vs Mingus Girls Soccer 010317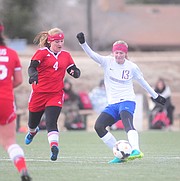 The Badgers currently own a 6-3-2 overall record and a 5-0 mark in power-point matches. Prescott relocated the site of Tuesday's match from Bill Shepard Field due to snow cover/wetness.
Badgers coach Carly Laipple said her team performed as well as it has all season against a younger Mingus unit.
"This was a big win, a must-win for us, given it is a conference game," Laipple said. "And in the past couple of years we have struggled against Mingus, always due to varying circumstances."
Last week at the Arizona Soccer Showcase, the Badgers finished third in their tournament bracket.
On Dec. 28, 4A Prescott lost to larger-enrollment 6A Mesa Mountain View, 3-1. Townsend scored the Badgers' lone goal, unassisted, in the 13th minute. On Dec. 29, Prescott was shut out by Notre Dame of Belmont, California, 4-0, as the Badgers allowed two goals in each half.
Despite those setbacks, the Badgers seem to have learned lessons from them. Depending on field conditions at Shepard Field, Prescott might also play its next home game at 5 p.m. Thursday, Jan. 5, versus Youngker at Mountain Valley Park's turf field. No matter where they play, the Badgers hope to continue excelling.
"Collectively we are playing smarter, using our options to more effect, and are finishing the ball well," Laipple added. "We have to maintain this momentum going forward."
PREP BASKETBALL
Bradshaw Mtn. girls 56, Mohave 24
BULLHEAD CITY – Bradshaw Mountain High's girls' basketball team improved its record to 4-2 in the Grand Canyon Region after this 32-point victory over Mohave Tuesday night, Jan. 3, on the road.
Mohave remained winless in league play at 0-2.
Briana Showman led the Bears offensively with 15 points on the strength of five 3-pointers. Mica Nellis followed with 11 points.
Bradshaw (10-8 overall, 7-3 in power-point games) will not compete again until 7 p.m. next Tuesday, Jan. 10, at Tempe.
Bradshaw Mtn. boys 66, Mohave 61 (OT)
BULLHEAD CITY – Bradshaw Mountain High's boys' basketball team edged Mohave in overtime of their Grand Canyon Region clash Tuesday night, Jan. 3.
With the win, the Bears evened their region mark at 3-3 and improved to 3-7 in power-point contests. Mohave dipped to 2-1 in region and 6-1 in power-point games.
Blake Huntley led Bradshaw in scoring with 24 points. Travis Lamb and Ivan Vidovic added 10 points each for the visitors.
The Bears will take a brief break from region action when they play host to Tempe at 7 p.m. next Tuesday, Jan. 10, at Gary Kunow Gym in Prescott Valley.
Follow Doug Cook on Twitter @dougout_dc. Reach him at 928-445-3333 ext. 2039, or 928-642-7865.