Photo by Sue Tone.

Originally Published: January 3, 2017 6:03 a.m.
Rodney and Denise Steidinger offer a home to several diverse animals – some you wouldn't expect to see six miles out Williamson Valley Road. Drivers started doing a double-take about three weeks ago when three buffalo showed up on the 10-acre ranch. They had only just gotten used to seeing Scapes, the baby zebra, running around the property.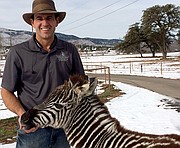 Scapes, mascot for the Steidingers' landscaping business ZebraScapes, has been with the family since he was 2 weeks old. Now 7 months old, he initially attracted several visitors to the property.
"Three cops and Game and Fish stopped by. Game and Fish wanted to make sure it was a zebra; the cops came to take photos," Rodney said with a laugh.
It is legal to keep zebras and bison in Yavapai County – they fall under Category A along with horses and cows.
The Steidingers found Scapes through a veterinarian friend of theirs in Texas who has been breeding zebras for 25 years. It takes many generations to provide the type of bonding and companionship these zebras have with their owners, Rodney said.
Scapes follows Rodney around the property as if zebras were always meant to be loyal domesticated pets. He walks between Rodney and visitors, and can be a tad bit jealous when more attention is given to the visitors. Soon he will be weaned off the remaining one bottle of milk a day.
The family worked with Scapes to get him ready to march in the recent Christmas parade, in which he took third place. They marched up and down the long driveway, honking their vehicles, yelling and making a lot of noise. Rodney kept a tight grip on the halter in the parade, but nevertheless, said he had someone nearby with a lasso "just in case."
Two more zebras are coming to the ranch in April, a 7-year-old and a 3-year-old. Rodney said he hopes to breed them.
In addition to Scapes, the couple provide a home for four daughters ages 7-13, several horses, an Angus and a mini-Jersey cow, three milking goats, three KuneKune pigs, a dozen chickens, a couple of mice-catching cats, and most recently, three buffalo.
One of Rodney's clients asked about boarding a buffalo, and Rodney found three – a male, 7, a female, 8, and a 1-year-old – at a rescue ranch in Texas. He brought all of them to Arizona.

"Buffalo are considered livestock, and there's no need for a permit," Rodney said, adding that the client wanted the buffalo for its meat. The female buffalo is pregnant and due in late spring.
"The kids have talked about names, but they haven't decided yet," Denise said. That might be a good thing, she added.
Due to the crossbreeding of buffalo with cattle – creating "beefalo" – Rodney is interested in keeping the bloodline of his bison family pure.
The sellers of his more unusual animals are pleased when they learn the animals have room to roam, Rodney said. "People who love their animals don't want them penned."
"They went nuts in the snow," Denise said about the buffalo, which are still a little skittish, but are learning to come at Rodney's whistle.
The Steidingers rented the property for six years before buying it a year and a half ago. The four girls are up early in the morning, every morning, doing chores and mucking out the stalls without being asked.
They know if they don't take care of the animals, they will lose them. Apparently, early on, they slacked off caring for the two alpacas and their dogs, and Rodney found other homes for those animals.
"I love animals. I love this lifestyle," he said repeatedly. The family has grown closer on their little ranch – a home on the range where the …
Follow Sue Tone on Twitter @ToneNotes. Reach her at 928-445-3333, ext. 2043, or 928-642-7867.
More like this story